run everywhere
guarantee
free shipping on
orders over $75
free 60 day exchanges
+ no-fuss returns
Less is more — a Janji classic gets major upgrades and becomes the lightest short in our line-up, possibly even in the world. The AFO Split Short 3.0 has a lighter, updated elastic waistband, two drop-in interior pockets for the essentials only and generous side splits for the most distraction-free strides.
Explore more
↓
features
Weightless feel
Ultra-light AFO stretch woven fabric for a barely-there-feeling shell
Built-in liner
Integrated moisture-wicking performance brief liner
Simple pocketing
Rear liner pocket fits a phone in a pinch or comfortably stores nutrition or a card + keys
Keep it separated
Front drop-in pocket includes a bungee loop for attaching keys or stashing cash
Splits for unhindered movement
Generous side splits and seamless bonded hems provide an ultra smooth feeling for total freedom of movement; excellent for big vert or high strides
Adaptable fit
Interior drawcord allows for easy adjustability on the run
materials + specs
AFO
88% recycled polyester, 12% elastane

Momentum Mesh (Brief Liner)
94% recycled polyester, 6% elastane


Garment made in Vietnam

Weight
M's (size M) // 93g // 3.28oz
sustainability
Learn more about our sustainable initiatives
 

here.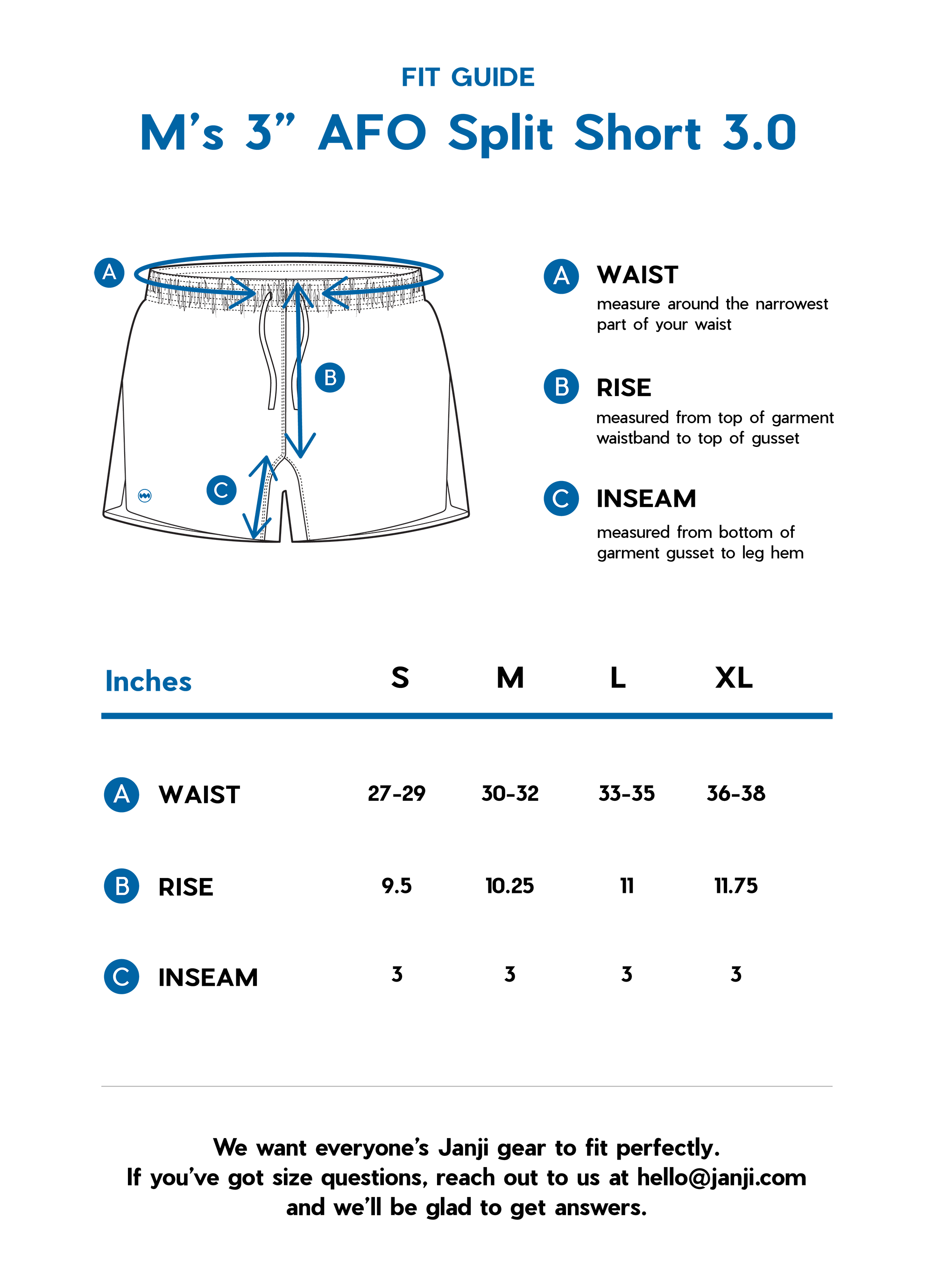 JOIN THE COLLECTIVE
Already a Janji Collective member? Log in to unlock access now.
Janji Collective Membership
$25
Key member benefits:
- 15% lifetime discount.
- Priority access to all releases.
- Limited run Janji gear.
Janji Collective Membership
Key member benefits:

- 15% lifetime discount.

- Priority access to all releases.

- Limited run Janji gear.
Please enter the gift recipient's contact info
The $25 membership fee goes toward supporting clean water initiatives through our clean water partner
Great Lightweight Short
Love these shorts, so light so comfy! A must for long runs in the summer.
Thicker waistbands for the win!!
I love that these shorts have a slightly larger waistband. The thicker waistband sits well on the body and keeps the shorts in place without much need for the draw string.
Lets keep making thick waistbands!!!
Wear it for:
Everyday wear
Amazing!
I love these shorts! I use them primarily for hot yoga and they are some of the best that I've found. Extreme lightweight which is helpful when I'm dripping in sweat. They also dry quite fast. I'll definitely be adding more to my wardrobe.
Wear it for:
Running, Everyday wear
Great product
Size is too small. Ordered small in error amd need to return/exchange. How do I do that?
Hi Carrie! You can begin an exchange at: janji.com/returns
Wonderful run shorts
These little shorts are light and effortless. I was initially apprehensive about the pocket in the back for the cell phone, but it stays in place. I love the green and blue colors but overall the comfort during a long run on a hot day is the best aspect.
Running shorts made right
I am 5'11, 140lb, run 50+mi/week on roads and mountain trails. I have a 30" waist and went with the mediums based on the sizing chart - I could have probably got the smalls, but am happy with the mediums. Once on, the shorts disappear. No chafing. Liner provides support without being too tight or too loose. Enough space to carry a key and a couple gels if needed. On long runs in humid conditions they do tend to wet out with sweat - more so than other shorts (found that out when traveling). However, in dryer climes, there isn't a short at any price point I could recommend over this one.
Wear it for:
Hiking, Everyday wear
I don't want to wear anything else in Bali
I bought the shorts for yoga, dancing, swimming, and hiking. Weightless and can secure a key in the ocean were the selling points for me.
Best 3in Shorts I Own
As a bigger / taller man I find most 3in shorts ride up, but not these! I feel all ranges of motion with these and they are so comfortable! Will def be getting another pair
Another pair of amazing shorts
While I really love the traditional AFO shorts, these split shorts are by far my favorite. The material is really soft, the fit it perfect and I really appreciate the extra ventilation from the side slits. I hope Janji continues to produce more of this style in future collections.
M'3 AFO split short
Awesome pair of shorts, I'm 6'1 and 160 lbs and the medium fit perfectly 🙌🏼