run everywhere
guarantee
free shipping on
orders over $55
free 60 day exchanges
+ no-fuss returns
Hit the trail in the AFO-Vent Tank — this lightweight, 4-way stretch tech top is made from a micro-perforated, abrasion resistant fabric for extra-breathable, durable running comfort. Low-profile, mini-binding collar and armholes are strategically designed to accommodate a hydration vest or pack.
Explore more
↓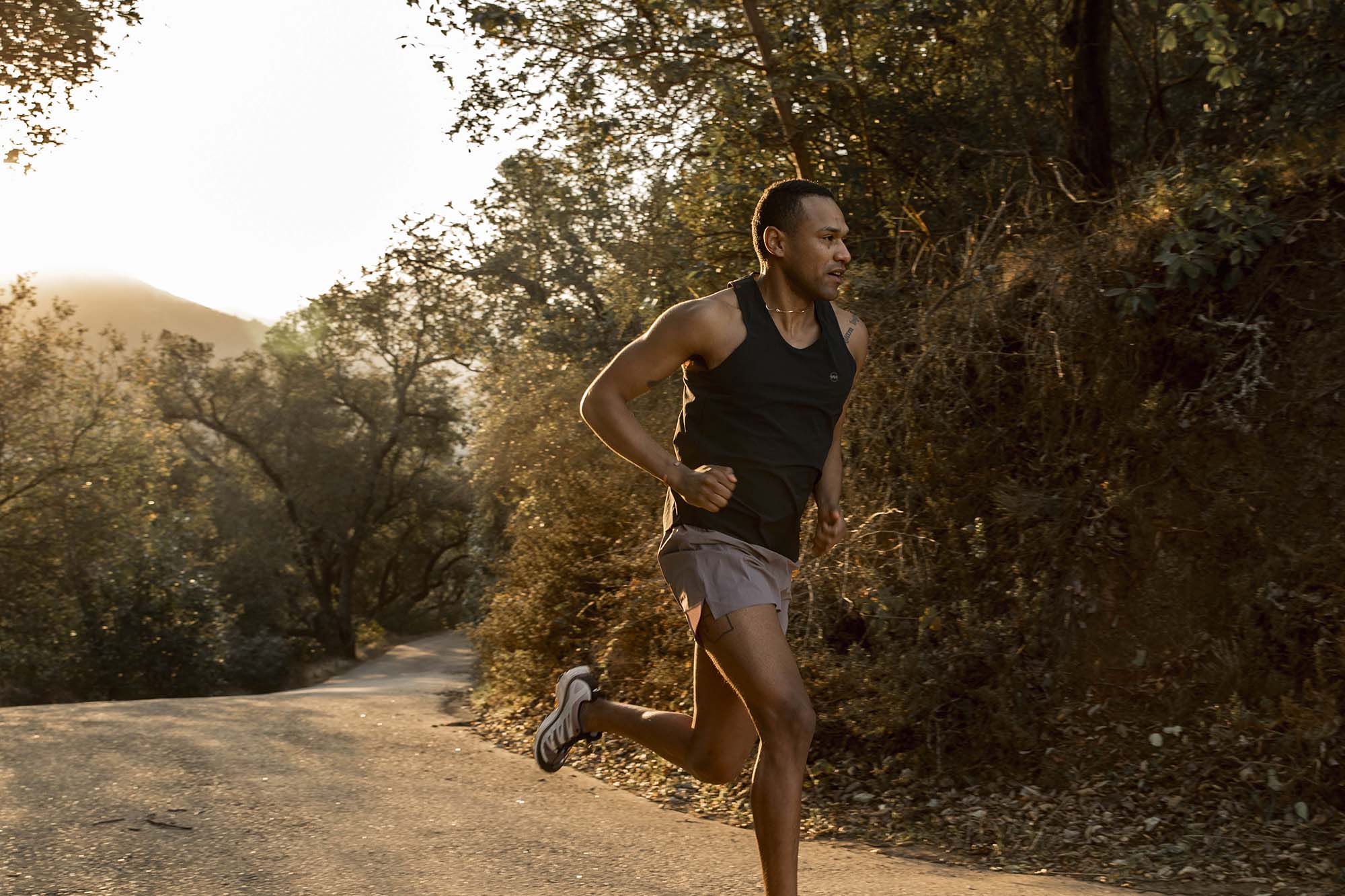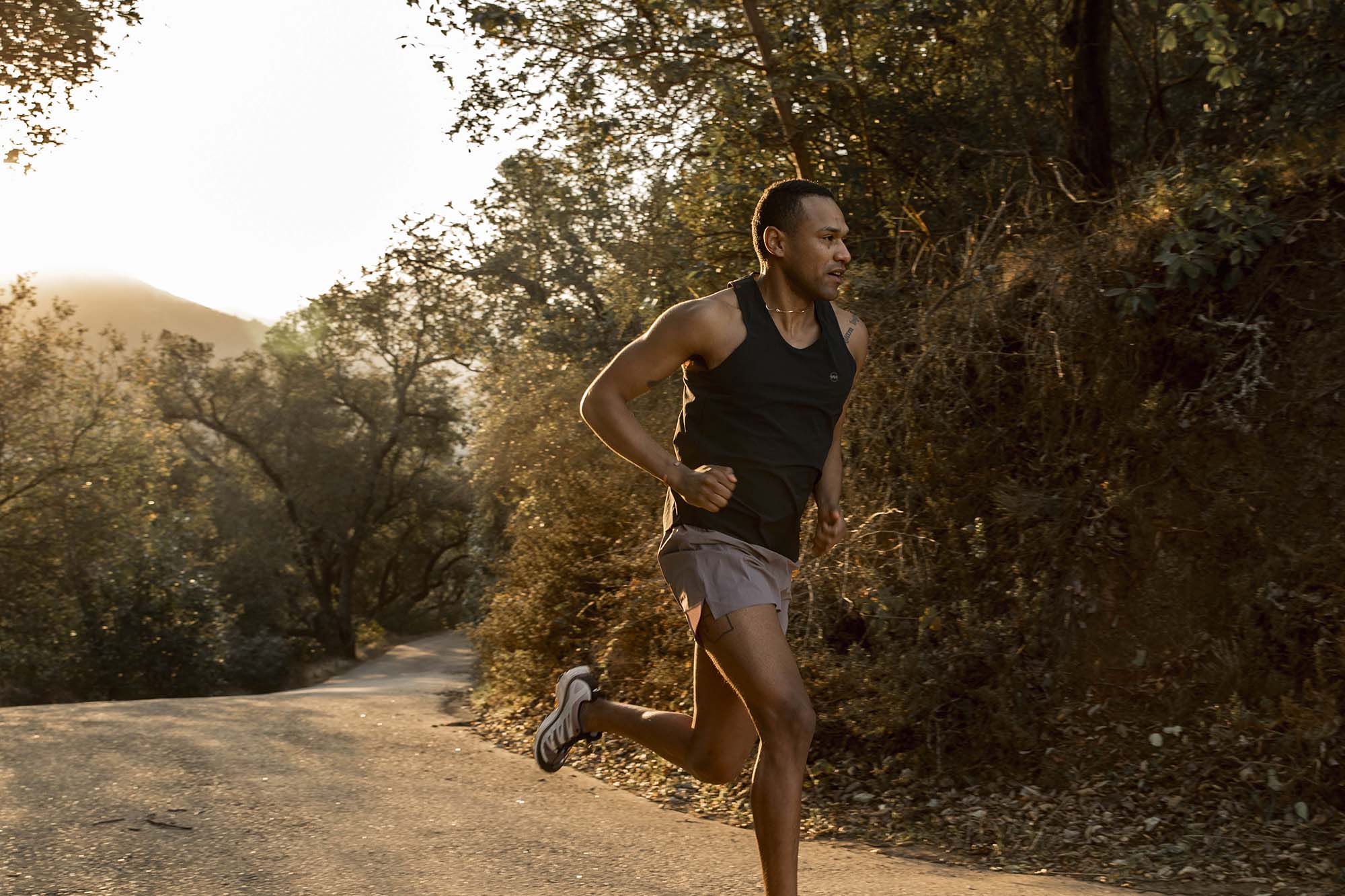 features
Lightweight yet tough
AFO-Vent is a durable, 4-way stretch nylon fabric that is abrasion resistant, retains its shape, resists odors, wicks moisture + dries quickly
Perforated venting
Micro-perforations enhance breathability
Minimal trims, pack compatible
Low-profile, mini-binding collar + armholes provide smooth, flat lying comfort to optimally accommodate hydration vests or packs
Smooth finish
Bonded hemline provides an anti-chafe, clean finish
Stay seen
Janji signature reflective logo on front chest + "watermark" reflectivity on back increase visibility in low light
materials + specs
AFO-Vent
80% nylon, 20% elastane


Garment made in Vietnam
68g / 2.4oz (M's Medium)
sustainability
The first rule to making something sustainable? Build it to last. This top is built to endure the rigors of serious wear. We made it out of our AFO-Vent fabric — a durable nylon that is lightweight yet tough, abrasion resistant, odor resistant and will retain its shape. All trims are minimal and low-profile to reduce weight, fuss and stress points.

Our AFO-Vent fabric is also bluesign® certified meaning it is free from harmful chemicals and is fabricated in a way that meets a high environmental standard.
Learn more about our sustainable initiatives
 

here.
Gallery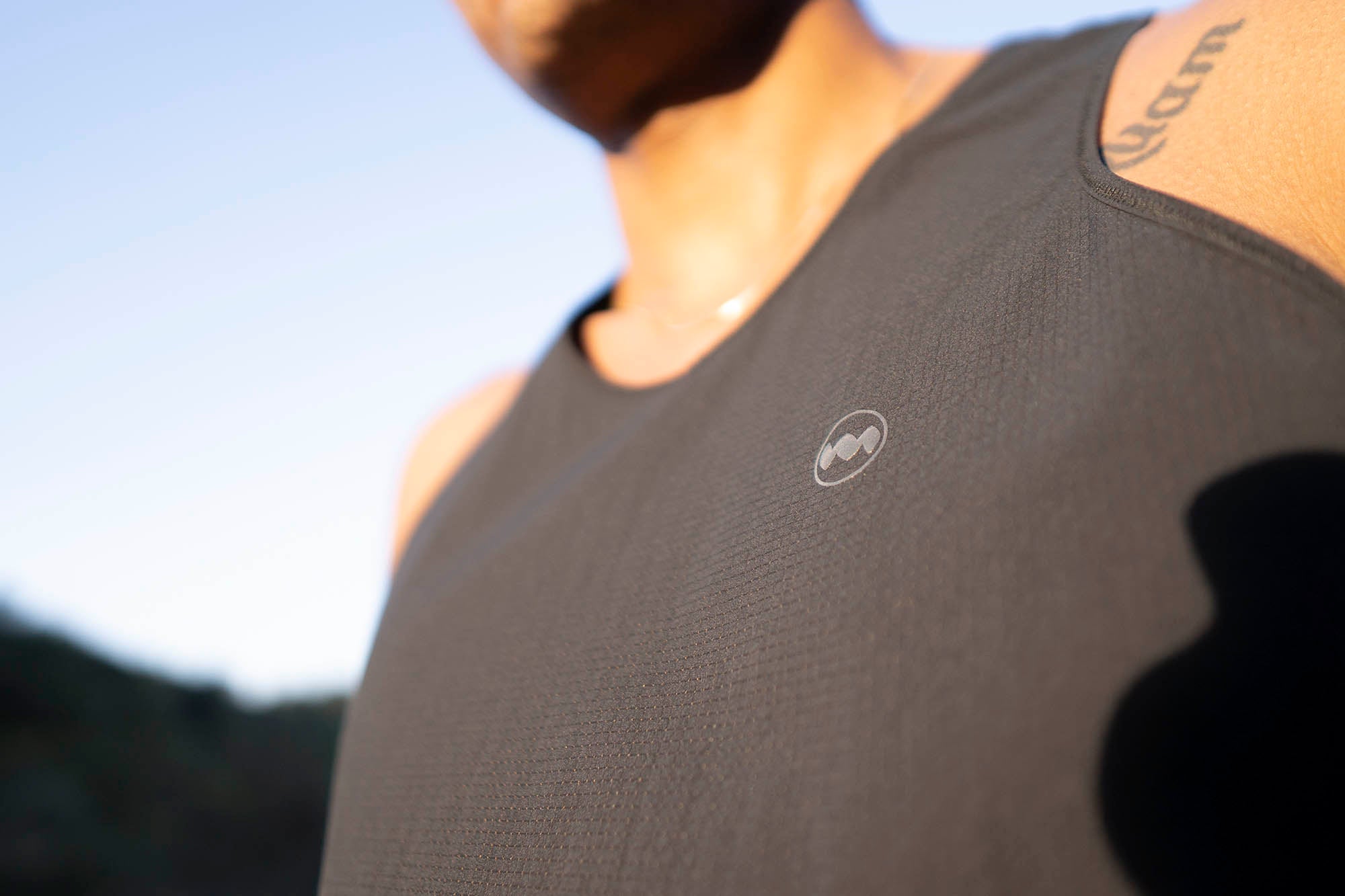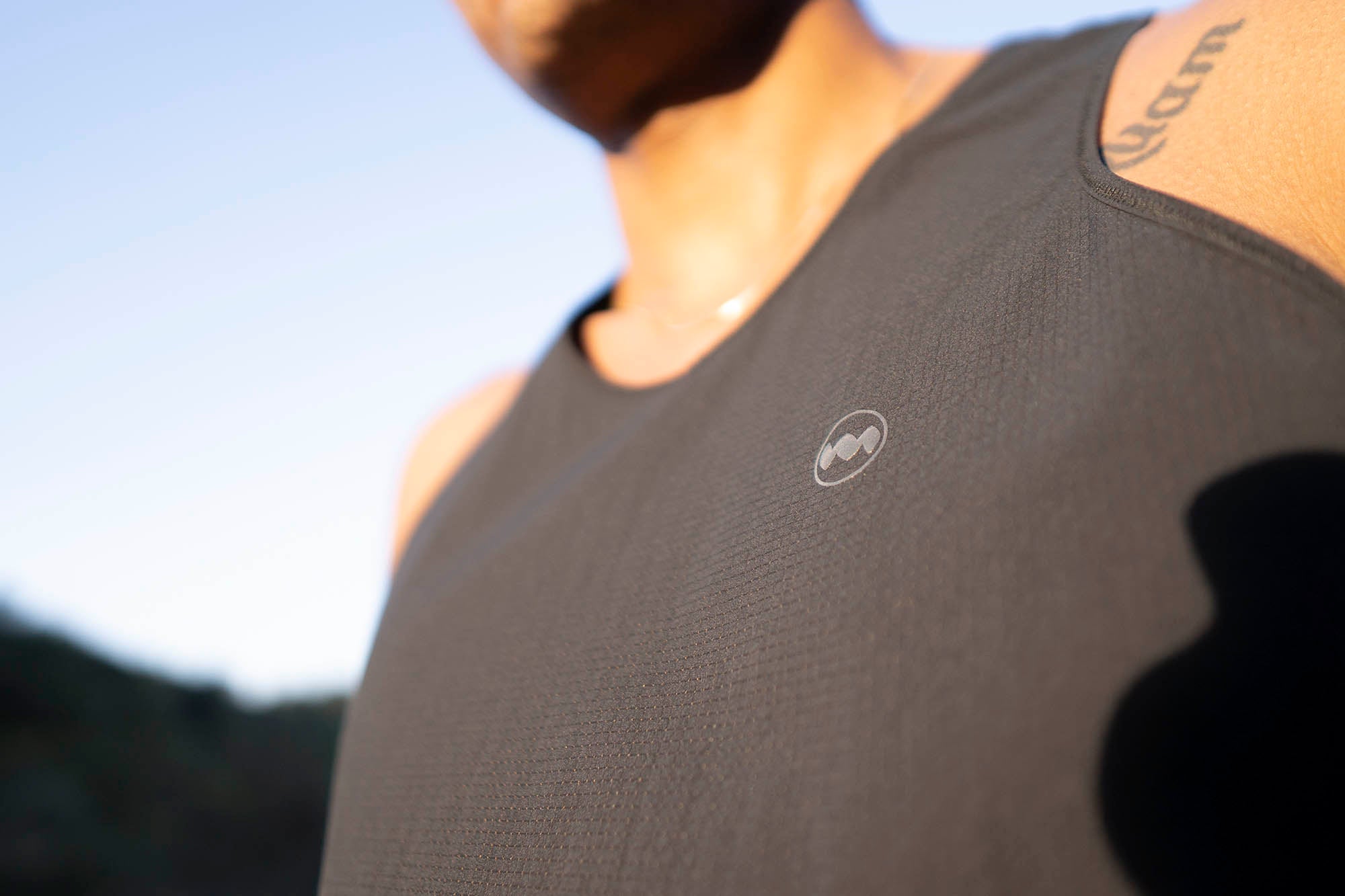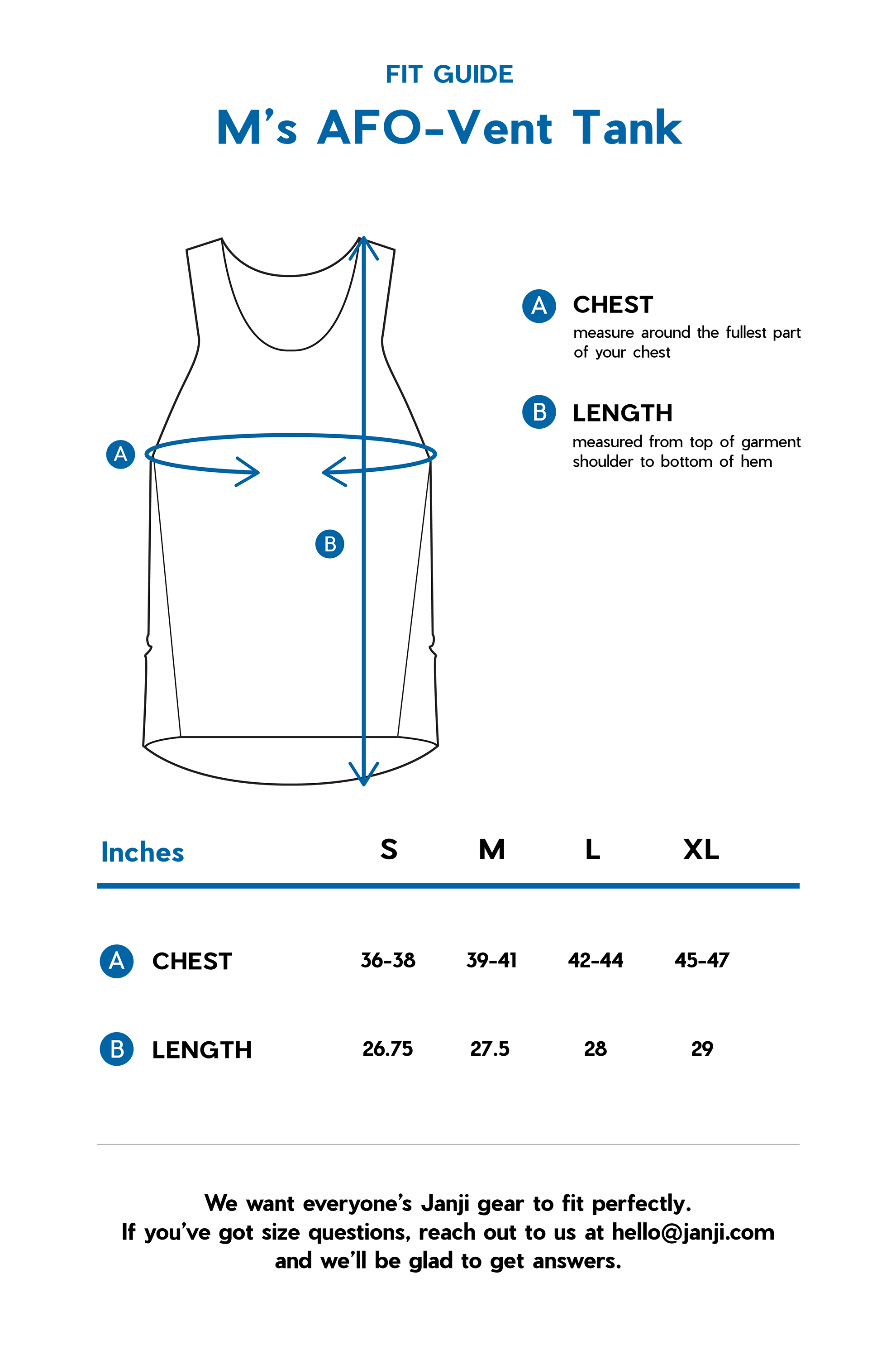 JOIN THE COLLECTIVE
Already a Janji Collective member? Log in to unlock access now.
Janji Collective Membership
$25
Key member benefits:
- 15% lifetime discount.
- Priority access to all releases.
- Limited run Janji gear.
Janji Collective Membership
Key member benefits:

- 15% lifetime discount.

- Priority access to all releases.

- Limited run Janji gear.
Please enter the gift recipient's contact info
The $25 membership fee goes toward supporting clean water initiatives through our clean water partner
Wear it for:
Running, Hiking
Great tank
It's seemingly always warm in Florida where I live and this tank hits the spot being both cool and comfortable. Would absolutely buy it again.
Exceeded my expectation!
This tank is one of the most breathable tanks I've tried. It keeps me cool and dry during my warm runs. It's now one of my go-to's for the summer runs.
Breathable all-star tank
For running tanks my main concerns are usually: breathability, stitching that causes chafing, how it handles sweat, is it easy to take off when sweaty. This tank performs great under all of those actually. The material is much stretchier than you'd think so for any body type it will feel comfortable. During and after long runs in this I found no chafing at all.
After my run it seemed to handle sweat really well in a way that didn't seem cumbersome and dried out on it's own overnight even. The stretchiness really helped getting it off after a run too, which can be hard if you're sweaty enough.
All in all would absolutely recommend these tanks for sure.
Great, lightweight top
Great for hot weather running- have never had a lighter running top than this. Perhaps it is the humidity in my area but does have a tendency to stick to me as I sweat. Thankfully the top is so light it hardly bothers me!
Light, breathes well
Love the feel of the material. Top half is a bit more fitted and bottom has a nice flows feel. Ideal for running!
Best Athletic Shorts!
At first I got these shorts as a runner, but then I started wearing the lm to hot yoga and AMAZING. They don't stick and dry extremely quickly. I have 6 pairs and love each one.
Solid Tank for the Heat
I don't normally run in tanks, but decided to pick this up for the hotter summer runs. Apparently I've been missing out, as this is now my favorite warm-weather running top. It's not overly loose and doesn't bounce around, but still remains breathable and weighs next to nothing.
excellent
great for the hot summer days. big fan of the design and softens as I run
Might be better than the AFO Singlet
This new fabric for sure has a unique stiff feel to it, but I think it's one the best performing pieces Janji has put out. Sweat does not make this top stick to you as easily as the singlets do; which you can feel while running and cooling down. All while making it easy to doff for shower time. The snugger fit is actually more accommodating for my figure and is not tight at all. I also feel like this new fabric gives it a little bit of wind resistance, but maybe that's just me. Overall I'm looking forward to seeing how Janji moves forward with AFO-Vent, and will be slowly replacing my old AFO Singlets with these.