run everywhere
guarantee
free shipping on
orders over $75
free 60 day exchanges
+ no-fuss returns
Sun protection and moisture-wicking for seasonless comfort — ultra-light and super fast-drying, the Helio Tech Long Sleeve has a textured interior so it stays cling-free and comfortable, even on your sweatiest adventures.
Explore more
↓
features
Cross-Seasonal Comfort
Designed to dry quickly and not cling, this top is ready to layer on colder days and shines on its own in temperate weather
Cling-resistant fit
Helio is made from a special 3-dimensional knit that raises it off the skin to prevent it from clinging when sweaty
Quick-dry to its core
Excellent moisture dispersal for sweat-wicking performance
Unhindered movement
Raglan sleeve design combined with flatlock seaming and minimal neckline prevent chafing for comfort through high-output movement
Stink-free bliss
HeiQ® Fresh odor control treatment keeps you smelling fresh through all-day adventures
Hang it up
An ultralight nylon hang loop is integrated into the back neck for easy hanging
Stay seen
Janji signature reflective logo on front hem + "watermark" reflectivity on back increase visibility in low light
materials + specs
Helio Tech
100% polyester with HeiQ® Fresh treatment


Garment made in Vietnam
75 / 2.75oz (W's Small)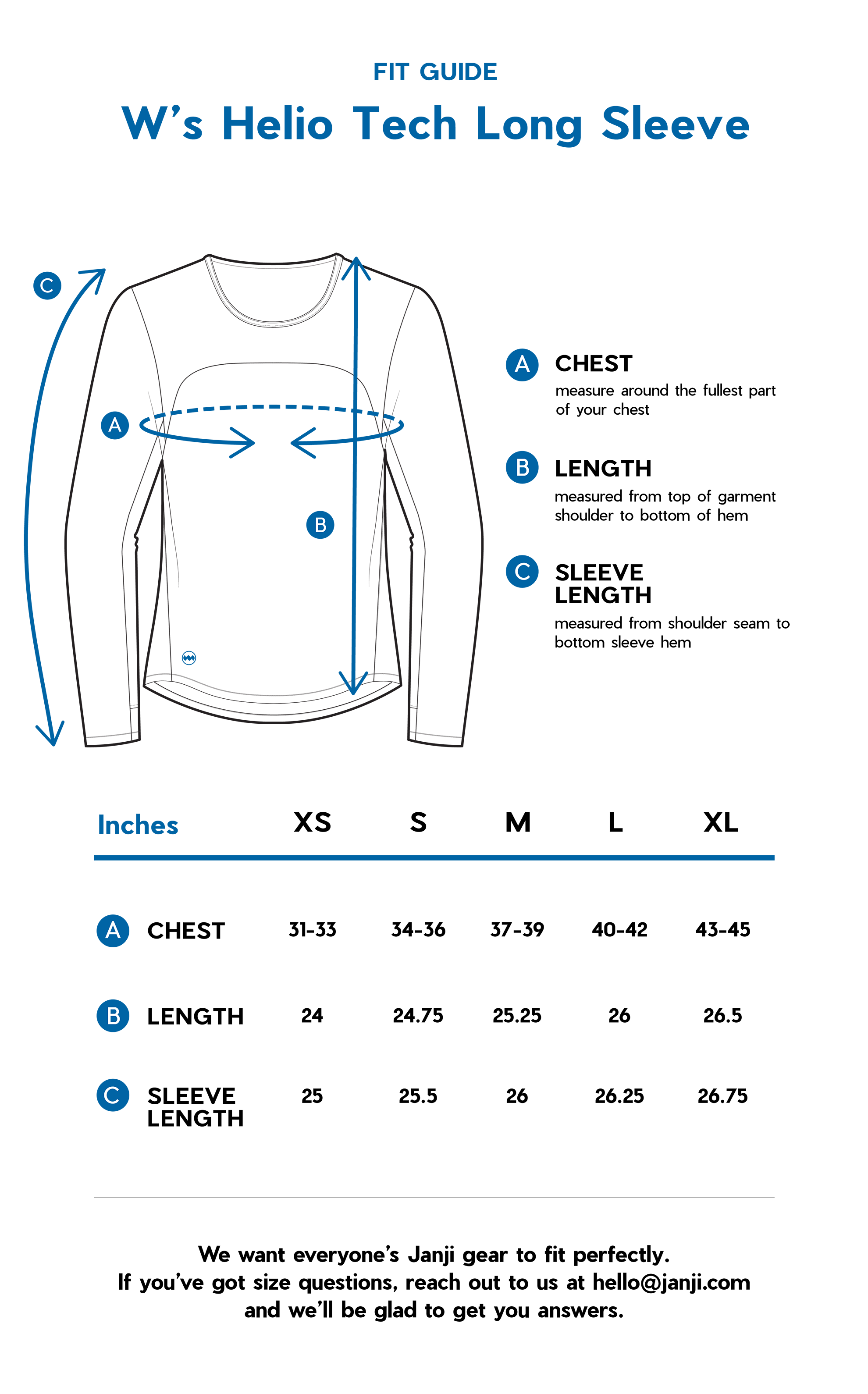 JOIN THE COLLECTIVE
Already a Janji Collective member? Log in to unlock access now.
Janji Collective Membership
$25
Key member benefits:
- 15% lifetime discount.
- Priority access to all releases.
- Limited run Janji gear.
Janji Collective Membership
Key member benefits:

- 15% lifetime discount.

- Priority access to all releases.

- Limited run Janji gear.
Please enter the gift recipient's contact info
The $25 membership fee goes toward supporting clean water initiatives through our clean water partner
Wear it for:
Running, Hiking, Everyday wear
Great shirt
It's lightweight, fits great, and feels good.
W's Helio Tech Long Sleeve
Wear it for:
Running, Hiking
Great Quality Shirt
I love this shirt! I appreciate the longer sleeves with thumbholes in just the right places. The weight of the material is just right; not too light or heavy. It is roomier than I expected and will be ordering XS in the future. Wasn't sure which size to order. Sometimes XS is too tight, but in this case, I could have ordered. Still a great shirt. Dries quickly.
Lightweight
Nice lightweight feel. The upper arms of the sleeves are pretty loose fitting, not a problem for me but would be especially nice for those with more muscular upper arms or shoulders. Perfect length, not cropped but not so long it hangs past my hips. I purchased my usual size small. I originally purchased the underbrush color but it was too muted and unflattering on me. The bark color is great. I especially love when tops have a little loop to hang them up by, I'm a firm believer in multiple wears before it hits the wash!
Wear it for:
Everyday wear
Love it
I love the material and fit.
Lightweight, High Performance
I am not a huge fan of long sleeve running tops, so I usually don't have great things to say about them. But I was very surprisingly happy with this top. It is unbelievably lightweight and easy going, where long sleeve tops usually end up feeling bunchy and restricting. The neckline worked perfect for me - it is fitted and lays flat on your body but isn't too tight or constricting. I run with a hydration pack and this top performs great on short runs and long runs alike. The material does not cause slipping and my pack stays in place the whole time, where with other tops I've tried, my pack is careening from side to side the whole run, even being cinched way down. The length of the top worked perfect for me - I am 5'2" with a short torso, so for taller ladies the length may feel short. The sleeve length was perfect for my build. Overall this is a great top. It's long sleeved to keep you warm when you need it, but it doesn't feel cumbersome like a lot of long sleeve tops. My ONLY constructive criticism is that I would love if the top came in 3/4 sleeves, too! (What do you think Janji??)
Wear it for:
Running, Hiking, Camping, Climbing, Cycling
Awesome, Well-Made Shirt
This shirt is incredible. The structure and attention to detail is awesome, the neckline is flattering, and the pattern/colors are pretty. I bought a Medium since previous long-sleeved running shirts of Janji's varied in width and sleeve length. In this version, the body is a little wider/roomy that previous mediums but the sleeves are not too short. Overall though I'd say its a relaxed but true to size fit.
Wear it for:
Running, Hiking, Camping, Cycling, Mountain Biking
PERFECT Texas winter layer
Super light, dries wildly fast I'm not sure it was ever wet, JC print is soooooooo pretty. Love the thumb holes. I usually wear a small and got a small. Perfect.
Wonderful!
One of my favorite shirts to run it. Very breathable. Flattering fit, even with my more narrow hips.