run everywhere
guarantee
free shipping on
orders over $75
free 60 day exchanges
+ no-fuss returns
Ready for a trail run through the woods or your daily commute, the Janji Stormrunner Fleece Jacket 2.0 provides lightweight warmth and protection from the elements in a versatile everyday silhouette.
Explore more
↓
features
Surprising warmth
Durable wind-resistant stretch shell has an internal fleece grid for warmth without bulk
Serious elemental protection
PFC-free water-repellent fabric sheds light rain, sleet and snow
Cozy detailing
Stand collar with soft fleece lining protects against wind and chill
Don't sweat it
Stretch fleece under arms provides targeted sweat-wicking where you need it most
Unfussy coverage
Thumb holes keep sleeves in place
Trail-layer friendly
Two-way zip allows for venting and comfortable adjustment under a hydration vest or pack
Durable for the long run
Durable shell fabric is made for the trail and resists abrasion under a pack or hydration vest
materials + specs
Stormrunner
Shell: 69% recycled polyester, 23% polyester, 8% spandex
Gusset: 47% Polyester, 42% nylon, 11% spandex


Garment made in Vietnam
120g / 4oz (W's Small)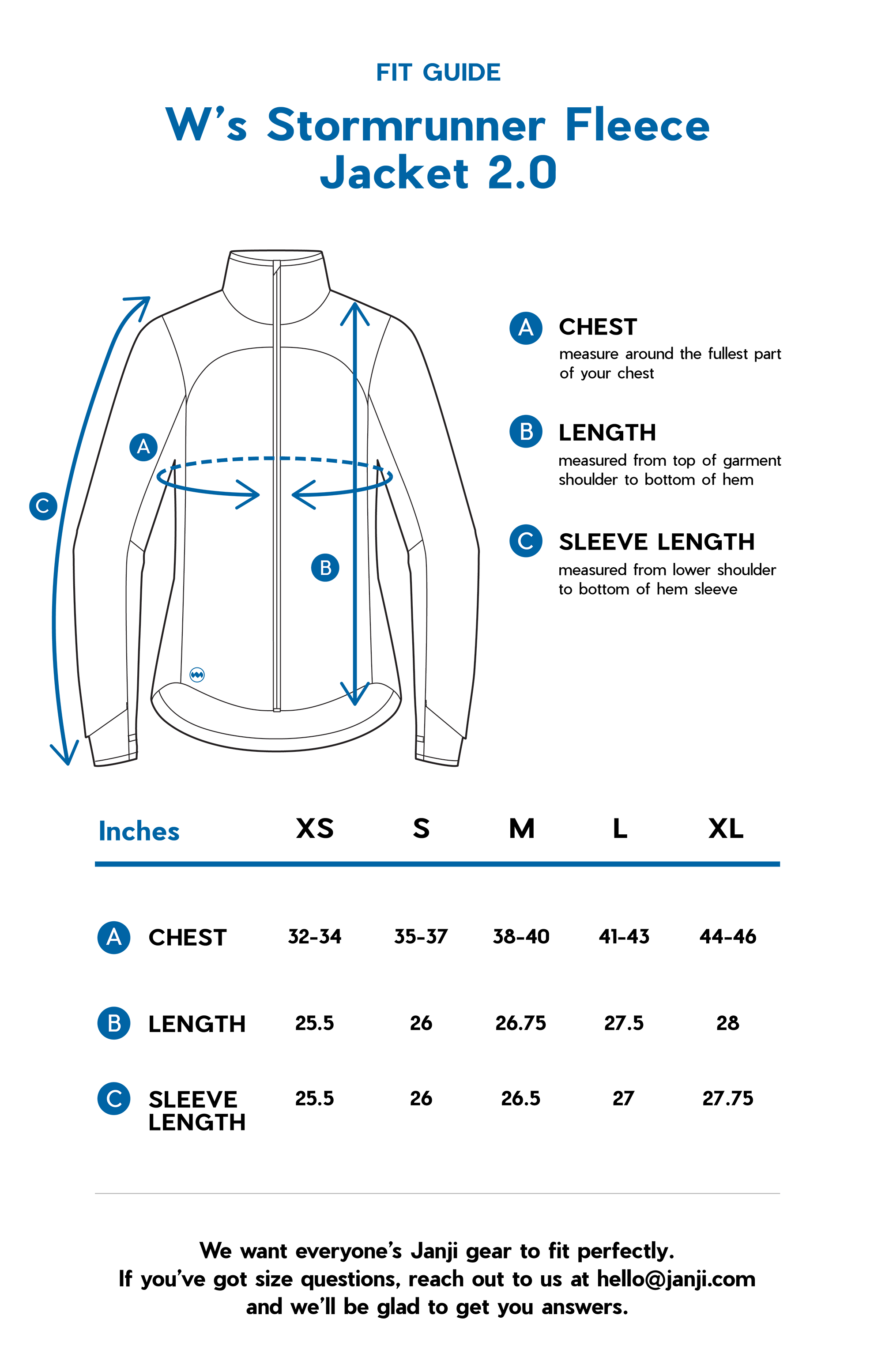 JOIN THE COLLECTIVE
Already a Janji Collective member? Log in to unlock access now.
Janji Collective Membership
$25
Key member benefits:
- 15% lifetime discount.
- Priority access to all releases.
- Limited run Janji gear.
Janji Collective Membership
Key member benefits:

- 15% lifetime discount.

- Priority access to all releases.

- Limited run Janji gear.
Please enter the gift recipient's contact info
The $25 membership fee goes toward supporting clean water initiatives through our clean water partner
Version 2 exceeds expectations
Please note that I have not worn this yet, as it is JUNE, but I tried it on and the collar is so much better than the shirt collar from version 1! I feel like it is slightly larger than a usual S, but I will likely be layering under, so will be fine.
Wear it for:
Running, Everyday wear
Nice jacket
Great style, quality and warmth, if a little big. The arms are quite long and the body fits loose.
Just lovely!
The snow color is lovely, the cut is lovely, the material is lovely. I received this yesterday and wore it this morning on my run. It was about freezing temps with some wind. The jacket layered over a long sleeve top blocked the wind and kept me warm without overheating like a wind breaker style jacket. The breathable material that starts just above the elbow and extends to mid ribcage is perfectly placed to ensure cooling without compromising wind protection. The arms are long enough that I can actually use the thumb holes! Finally! A jacket with long enough arms, blocks the wind, and breaths. Perfection! The size small fits me perfectly and layered over a heavy weight long sleeve no problem.
Perfect running coat
I bought this coat for cold weather running and it's just right for running in 30-40 degree temps. Not too hot, not too cold and blocks the wind.
Sleek and warm
I love the look and fit! It's also very comfortable. The armhole is my favorite.
Wear it for:
Running, Hiking, Camping, Cycling, Everyday wear
Love the updated version
I have both versions of this jacket hence my second review on here! I went with white, which seems risky, but it's just so pretty, and way more visible in the darkness of time change season. The double zipper is genius, I plan to use it cycling for that reason. The inside of the collar is so soft against my neck--those are usually too tight for me, but not here. It's very flattering, and just like it's 1.0 version, I'll wear it as a casual jacket as well as heavy layer for super cold days. It's really light, but super warm. Nice reflective detailing too. I keep eyeing the bark color...
Wear it for:
Running, Hiking
The sleeves are a bit long but otherwise it's exactly what I was looking for!
It's my everything jacket
This jacket is the most versatile jacket I have ever owned! Hands down! I was a runner/yoga aficionada before I was a mom-- and I used to have lots of space in the car for extra gear. Now the car is full of all kinds of kid stuff and room for my gear is limited. I have to get a run in where I can (while junior is at Ninja, between the end of my workday and before picking him up from after care, and on weekends with him in tow). I never know when I will get the chance, I love to have gear that can handle any kind of weather on hand. THE STORMRUNNER is the gear! It is warm enough to handle cold weather, but I have worn as a windbreaker in windy warmer weather too. If it is damp out or even rainy, it keeps me warm. Recently, with Covid, I have taken up biking too, and the STORMRUNNER does a great job at blocking the breeze in cool biking weather. I also love that it is not bulky, so I can wear a vest over it. In this way, it is not like a standard bulky fleece, but it is warm like a fleece. I can't recommend this jacket highly enough.
AMAZING and warm
This jacket has become the main jacket I wear on any run that is below 30 deg. It is warm, and you can layer underneath to keep even warmer. Also the inside zipper pocket is perfect for my phone (I've got an Iphone 7) which does not bounce as I run!! The material also feels amazing and fits perfectly.
Amazing Jacket for Winter Running
I've been wearing this jacket so often lately I had to write a review. Its waffle fleece is soft and comfortable (I'm always skeptical of zippered layers), it fits great (with or without a layer underneath), and is absolutely perfect for cold weather running. Also, love the reflective details on the cuffs!! This is one of my favorite layers from Janji for sure.