run everywhere
guarantee
free shipping on
orders over $75
free 60 day exchanges
+ no-fuss returns
Temperature balance built for the trails - the Zephyrunner Wind Shell is an ultralight, packable essential that helps you effortlessly navigate changing conditions by balancing durability, breathability, and coverage for year-round adventures. Read more
Explore more
↓
features
Strategic breathability
Back panel venting keeps you comfortable while maintaining wind protection
Better than zero
The Zephyrunner strikes a perfect balance of wind-breaking breathability with a CFM rating of 16 engineered specifically for running + high-activity output activity
Multi-condition preparedness
Hyperlight, durable nylon shell is water-resistant and wind-blocking for whatever the trail may bring
Ready for anything
Stows into chest pocket for easy packability
Secure fit
Bungee hem and hood toggle allow for an adjustable fit on the fly, reducing exposure in windy conditions
Keep it separated
2 zip hand pockets and a zip chest pocket stash small essentials close at hand
Visibility
Signature reflective logos for improved visibility in low light
materials + specs
Zephyr
100% nylon with PFC-free C0-DWR (durable water repellency)

Weight
108g / 3.8oz (W's Small)


Garment made in Vietnam
CFM is the rating that measures how windproof a fabric is - 0 is totally windproof. With a CFM of 16, the Zephyrunner cuts most wind while staying highly breathable - ideal for running performance.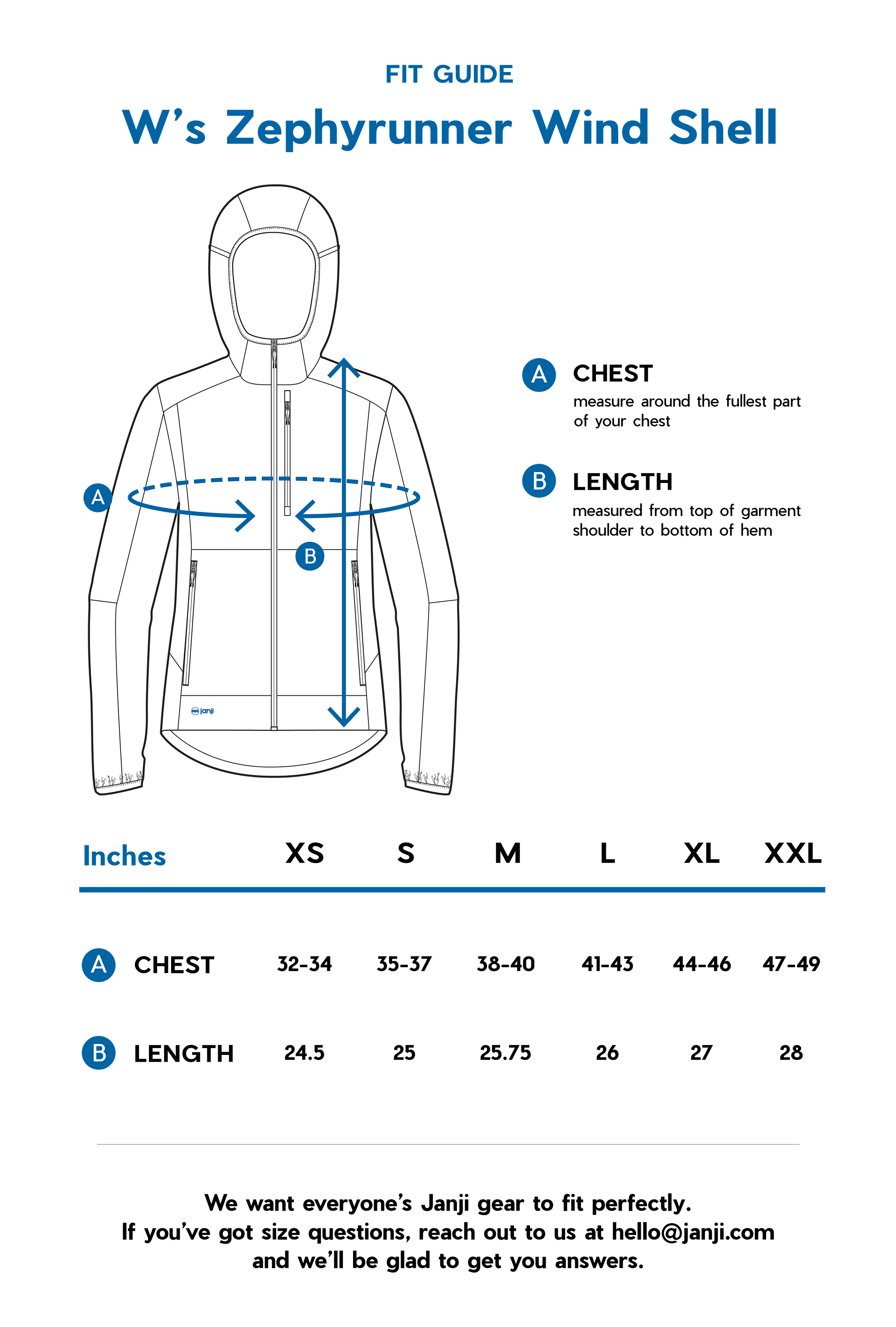 JOIN THE COLLECTIVE
Already a Janji Collective member? Log in to unlock access now.
Janji Collective Membership
$25
Key member benefits:
- 15% lifetime discount.
- Priority access to all releases.
- Limited run Janji gear.
Janji Collective Membership
Key member benefits:

- 15% lifetime discount.

- Priority access to all releases.

- Limited run Janji gear.
Please enter the gift recipient's contact info
The $25 membership fee goes toward supporting clean water initiatives through our clean water partner
Wear it for:
Running, Hiking, Everyday wear
Needed this
I'm very pleased with this purchase. The vapor color is so different and the jacket has a very flattering cut. I love the light weight, like I'm not wearing anything extra but I went on a morning run in 35 degree weather and it was perfect with a merino long sleeve underneath. I always size up from S to M in jackets so that I can layer underneath if needed. This jacket was a need and filled a hole in my closet for lightweight wind protection.
It's hanging on my wall just so I can admire it!
I love this jacket. I got the Sea Drift art jacket and it is so beautiful. I took it out yesterday for a run and it worked! Blocked the huge wind. I was wearing short sleeves and the fabric of the jacket on my bare arms felt really soft--not gross and cold like straight nylon does. Note--the description says it is a trim fit--that is true. But not so trim that it was tight on my big belly. If you are a larger person, you might want to get a size up. really great jacket--i am now a janji fan for LIFE.
Wear it for:
Running, Everyday wear
Perfect for wind chill and light moisture
I LOVE this jacket. The print is gorgeous!! Functionally speaking : it is unbelievably light and buttery soft, but powerful in blocking wind chill by just the right amount to keep me from cooling out but also not make me all sweaty. Though it's not a rain jacket, I've found it can also keep me comfy when there's mist or such moisture in the air. Several easily accessible zipper pockets, of course. It packs down tiny and really is no bother to just take along on a run if you're worried it might get chilly or windy. I just did a long run where I really only needed it for before and after the run, but it was no trouble at all just carrying it with me (I pulled it through those back pocket thingies of the Pace shorts). The only thing I keep wondering is whether it really needs a hood (I feel like I could do without), but I'm not going to complain about it having more features than I need. ;)
Wear it for:
Running, Hiking, Cycling
Incredible Jacket!
This jacket has quickly become my new favorite- I'm not sure how it's so buttery soft but the material is amazing. It's super lightweight but durable and keeps me warm- perfect for hiking and taking on/off and stashing in a small bag. All of the pockets and hood are great features!
Good quality, questionable value
This wind shell does its job and looks nice, but I do feel it's grossly overpriced.