run everywhere
guarantee
free shipping on
orders over $75
free 60 day exchanges
+ no-fuss returns
Providing lightweight warmth and protection from the elements, the Vortex Wind Block Glove keeps you warmer than ever with a stowable mitten-shell, reflective detailing for the dark winter months, and touchscreen-friendly fingertips. Read more
Explore more
↓
features
Weather repellent comfort
Lightweight stretch fleece glove offers breathable, moisture-wicking warmth while the weather-resistant mitten hood protects from wind, rain + snow
Smart touch enabled fingertips
Signature Janji wave silicone pattern allows for smart phone compatibility on the thumb + index finger without needing to remove the gloves
Hi-vis reflective tape
Reflective tape across the back of the hands enhances visibility in low light
Cozy cuffs
Longer cuffs provide extra coverage + easy layering under an outer shell
Secure snaps
Snaps on the cuff of each glove can secure them together
materials + specs
Water repellent coated outer
PU coated 100% polyester ripstop

Power stretch fleece
84% polyester, 16% spandex

Weight
1.6oz / 45g (size XS/S)

Glove made in China
Gallery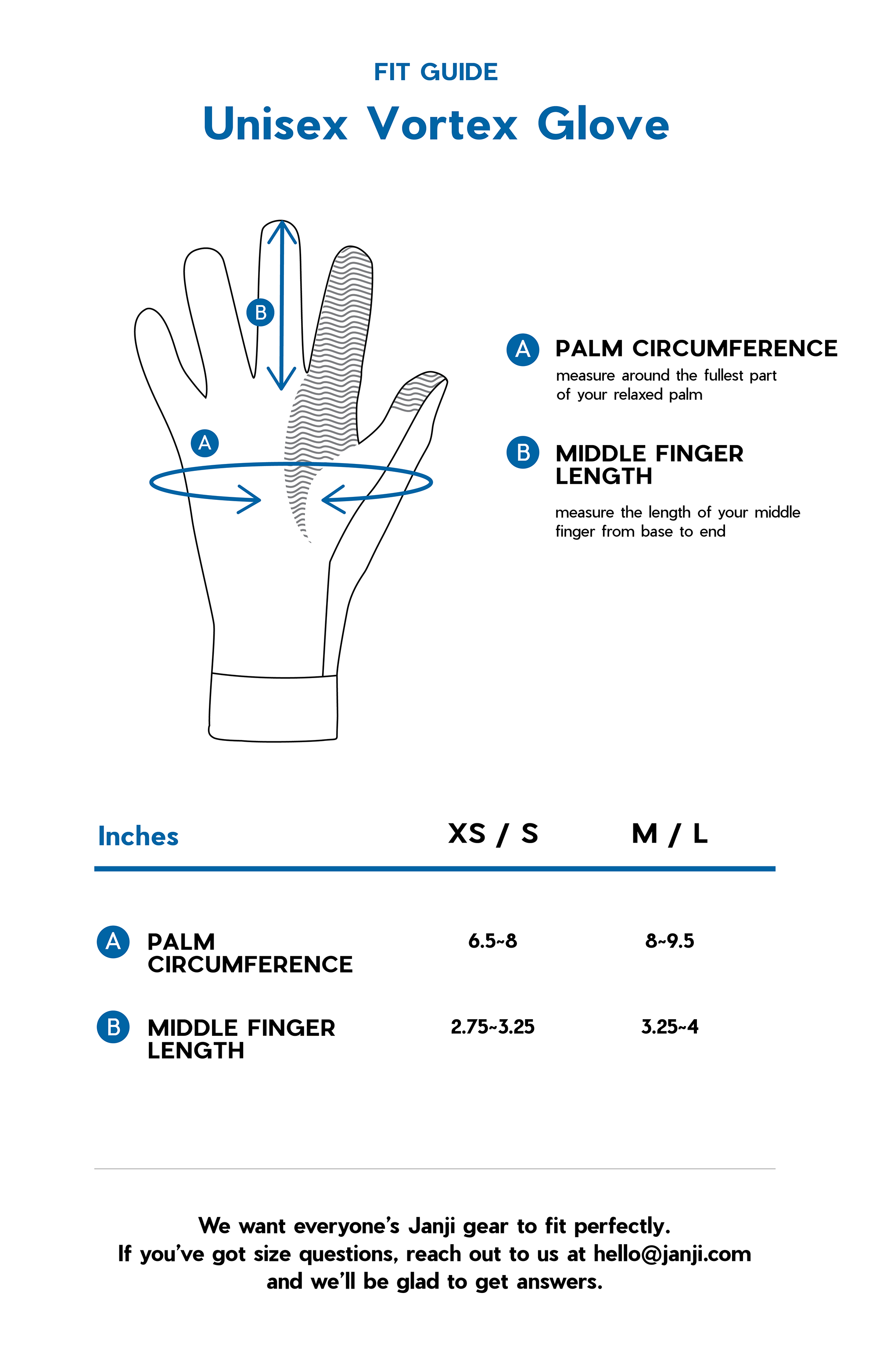 JOIN THE COLLECTIVE
Already a Janji Collective member? Log in to unlock access now.
Janji Collective Membership
$25
Key member benefits:
- 15% lifetime discount.
- Priority access to all releases.
- Limited run Janji gear.
Janji Collective Membership
Key member benefits:

- 15% lifetime discount.

- Priority access to all releases.

- Limited run Janji gear.
Please enter the gift recipient's contact info
The $25 membership fee goes toward supporting clean water initiatives through our clean water partner
Wear it for:
Running, Cycling, Mountain Biking, Everyday wear
Great Gloves!
So versatile! Warm but not hot. Breathable and water proof. Comfortable yet form
fitting. Also excellent value.
Finally a warm glove for cold running!
Great for winter
Used these for 15 degree and windy turkey trot in North Dakota and they worked very well! I especially appreciate how the winds cover also includes a thumb sleeve! It'll be the perfect glove for winter running.
need a L/XL size
M/L was too small. Otherwise a nice design. Maybe a little more insulation.
Wear it for:
Running, Hiking, Everyday wear
Awesome gloves!
Very comfortable and warm gloves! I've yet to wear them in the dead of Indiana winter, but so far, so good! I've got pretty small hands, so I got XS-S size and they are a bit tight to get on. So fit a little small in my opinion. But I doubt I'd need to go up in size as they'd be too big.
Great cold weather gloves
I wore these outside for February-April (>20mpg winds) and these kept my hands warm. I usually would wear the thumb cover on (life/thumb saver) and tuck in the rest into the storage pouch/or let it flap around for 2 hour runs.
For me these gloves were too warm at around 40 degrees+/-. Small sizing fit my smaller hands perfectly.
Only thing I would prefer is the storage of the wind cover to be on the top of the hand instead of the wrists. The jacket I wear for colder runs is an elastic band on the wrist, so I just let the covers flap in the wind if my hands get warm during the run.
Test run went great
Worked great on a 40 degree run in the rain and very impressed with how dry and cozy my hands felt!
Wear it for:
Hiking, Everyday wear
Deceivingly Effective
Didn't think much of these when I bought them; then I went to Montana. Absolutely the best and warmest mitten/gloves ever.
Wear it for:
Running, Everyday wear
Best gloves ever
I've never written a product review before but I HAD to review these gloves/mittens. I've been running outdoors in Wisconsin all through the winter, and these gloves have been literally perfect. The wind shield layer is truly amazing, it keeps my hands so warm even during below zero wind chills. Sometimes my hands even get warm enough that I have to roll back the wind layer for a couple minutes lol. The inner layer is nice and soft on the inside too, they're just really all-around great gloves. The only thing I would change if I could would be to add a slot for a GPS watch—once I slide on the gloves, I really can't use my tracker anymore. The touch-screen tips also aren't great (especially while running), but that's not a huge deal to me.