run everywhere
guarantee
free shipping on
orders over $55
free 60 day exchanges
+ no-fuss returns
Providing lightweight warmth and protection from the elements, the Vortex Wind Block Glove keeps you warmer than ever with a stowable mitten-shell, reflective detailing for the dark winter months, and touchscreen-friendly fingertips. Read more
Explore more
↓
features
Weather repellent comfort
Lightweight stretch fleece glove offers breathable, moisture-wicking warmth while the weather-resistant mitten hood protects from wind, rain + snow
Smart touch enabled fingertips
Signature Janji wave silicone pattern allows for smart phone compatibility on the thumb + index finger without needing to remove the gloves
Hi-vis reflective tape
Reflective tape across the back of the hands enhances visibility in low light
Cozy cuffs
Longer cuffs provide extra coverage + easy layering under an outer shell
Secure snaps
Snaps on the cuff of each glove can secure them together
materials + specs
Water repellent coated outer
PU coated 100% polyester ripstop

Power stretch fleece
84% polyester, 16% spandex

Weight
1.6oz / 45g (size XS/S)

Glove made in China
Gallery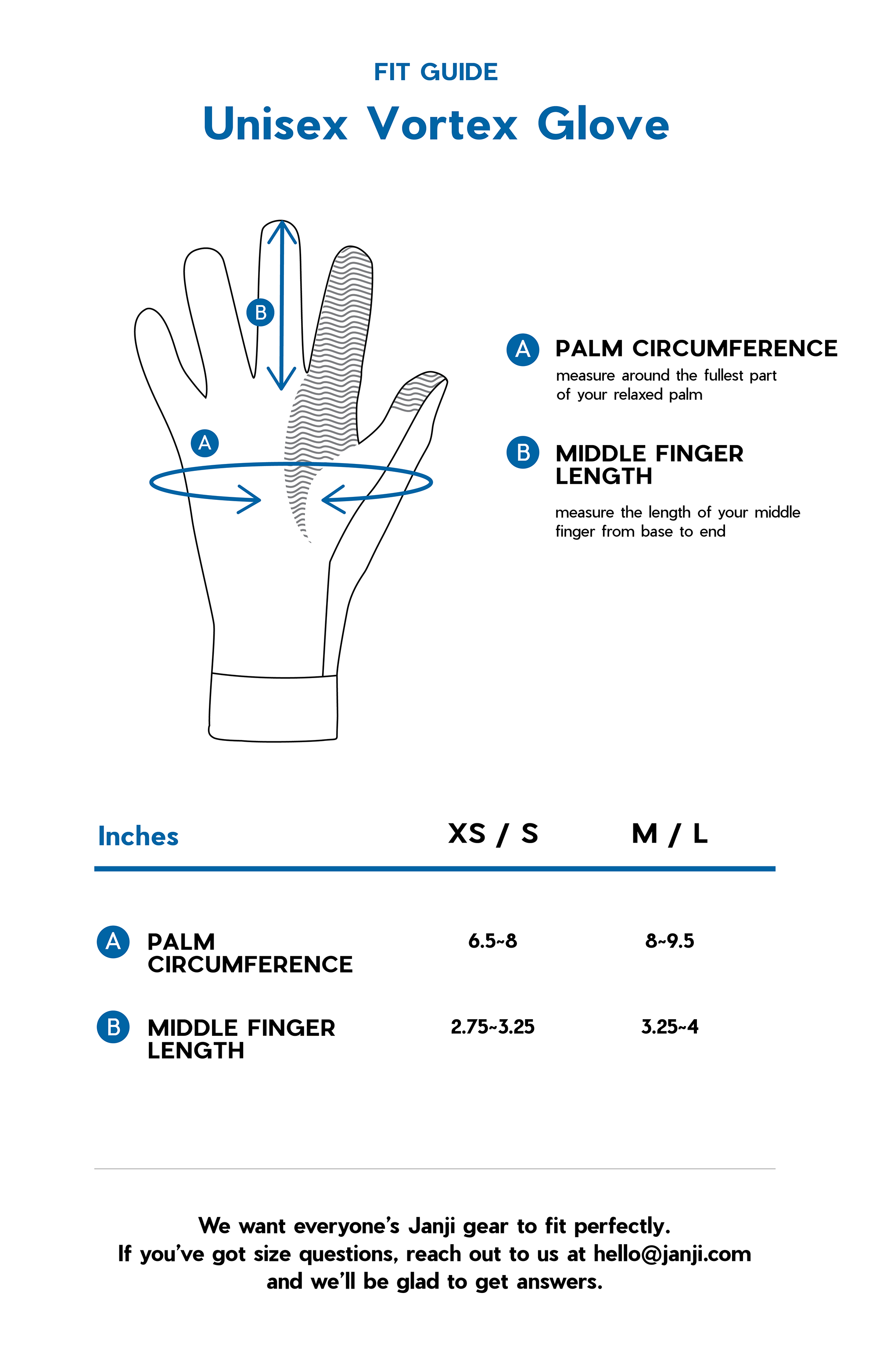 JOIN THE COLLECTIVE
Already a Janji Collective member? Log in to unlock access now.
Janji Collective Membership
$25
Key member benefits:
- 15% lifetime discount.
- Priority access to all releases.
- Limited run Janji gear.
Janji Collective Membership
Key member benefits:

- 15% lifetime discount.

- Priority access to all releases.

- Limited run Janji gear.
Please enter the gift recipient's contact info
The $25 membership fee goes toward supporting clean water initiatives through our clean water partner
Test run went great
Worked great on a 40 degree run in the rain and very impressed with how dry and cozy my hands felt!
Wear it for:
Hiking, Everyday wear
Deceivingly Effective
Didn't think much of these when I bought them; then I went to Montana. Absolutely the best and warmest mitten/gloves ever.
Wear it for:
Running, Everyday wear
Best gloves ever
I've never written a product review before but I HAD to review these gloves/mittens. I've been running outdoors in Wisconsin all through the winter, and these gloves have been literally perfect. The wind shield layer is truly amazing, it keeps my hands so warm even during below zero wind chills. Sometimes my hands even get warm enough that I have to roll back the wind layer for a couple minutes lol. The inner layer is nice and soft on the inside too, they're just really all-around great gloves. The only thing I would change if I could would be to add a slot for a GPS watch—once I slide on the gloves, I really can't use my tracker anymore. The touch-screen tips also aren't great (especially while running), but that's not a huge deal to me.
Wear it for:
Running, Everyday wear
Quality gloves
These gloves are amazing. I get very cold hands. Temps in the 50's make my hands and fingers numb. These gloves are light enough to wear in cool weather and protective enough for cold temps (20's with windchill in single digits). I've sprayed the top layer with DWR which has added to their already fantastic wind protection. I love the reflective strip in the windbreaker portion. The touch screen on the fingertips actually works!! Lastly, for being a thin pair of gloves, they've taken a few hard falls out on the trails with no samange to the glove! Highly recommend!
Ps- I size up a bit so I can take my fingers out of the finger part and ball into the palm for very cold weather. Gamechanger!
Wear it for:
Running, Hiking, Cycling
FINALLY!!!
I have been suffering for years with gloves that say they are great in cold weather but are NOT. My hands have poor circulation and are usually cold all day and running in cold weather is unbearable… until Janji came in clutch and made the BEST running gloves for cold and windy weather. When I tell you it's been amazing, trust me. My fingers would usually turn white after a few miles and it's painful when they warm up. Not with these bad boys! My hands are actually sweaty sometimes which is glorious. Thank you thank you!!
Wear it for:
Running, Hiking, Everyday wear
Amazing Gloves
Best lightweight gloves I've ever owned! I get so many compliments on the pattern, too. I work in outdoor education and in the winter it's so nice to have something to keep you warm and dry but still allows for dexterity for writing things down, helping kiddos zip jackets and put on mitts, etc. Love that I can go from tying a shoe to throwing a snowball so quickly ;) I have small hands (about 6.5 inches from inner wrist to tip of middle finger) and the XS/S fits not tight, still a tiny bit of room - like enough that you could have bigger hands and they would still be comfy - but not too much to take away from wearability.
Wear it for:
Running, Hiking
Best running gloves mitten combo
Just the right fabric selection for wind protection when is needed. A bit loose for the medium/large size.
Warm and dry hands
Finally , two months after the purchase I was able to take the gloves for the test run . 37 degrees and steady rain , my hands stayed warm and dry during 1 hour long run
Wear it for:
Running, Mountain Biking
Perfect for Colder Runs
Love the weight of these. Mittens for wind and rain protection make them super versatile and able to keep my hands warm in really cold conditions. Also still able to easily use phone with them on. Likely to get one more pair for winter rotation.