6 pockets
recycled materials
run everywhere
guarantee
free shipping on
orders over $75
free 60 day exchanges
+ no-fuss returns
Changes in elevation and sunrise-to-sunset adventures bring unpredictable conditions — outsmart the elements in the all-season, ultra-pocketed, weather-resistant Atlas Multi Pant. With three secure zip pockets and three drop-ins integrated into the waistband, plus nearly-knee length ankle zips, these pants are your ultimate all-mountain trail layer.
Explore more
↓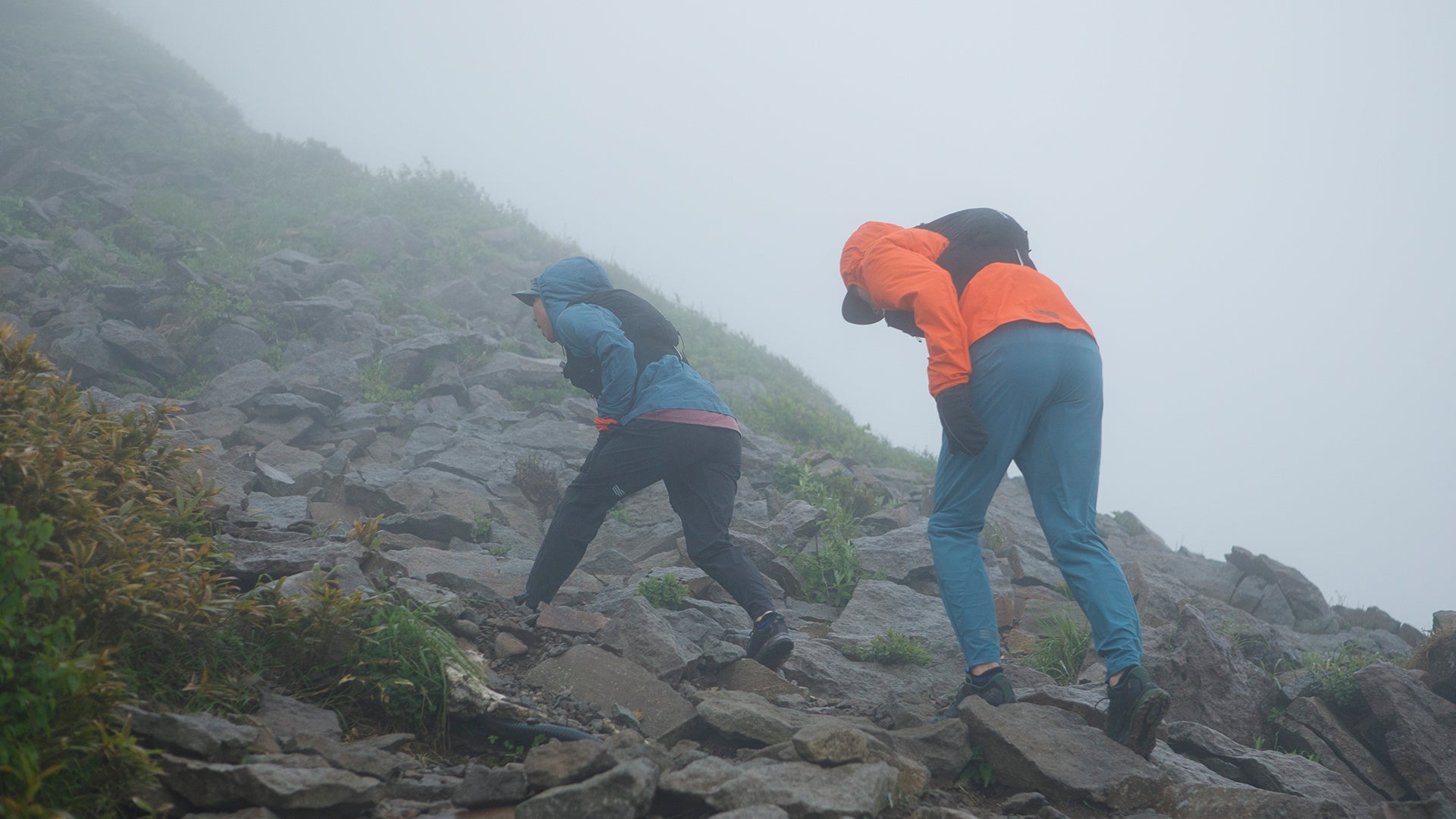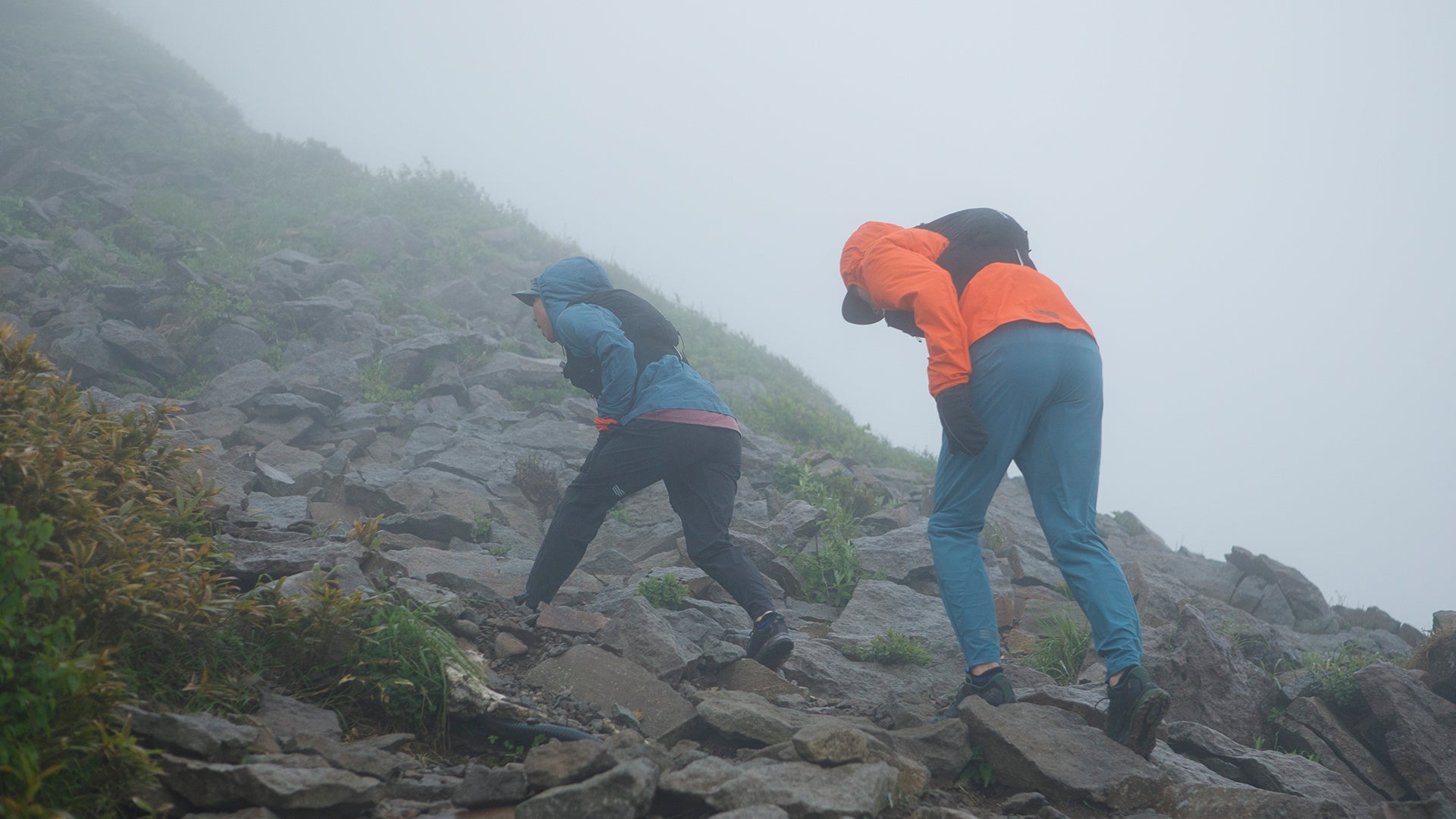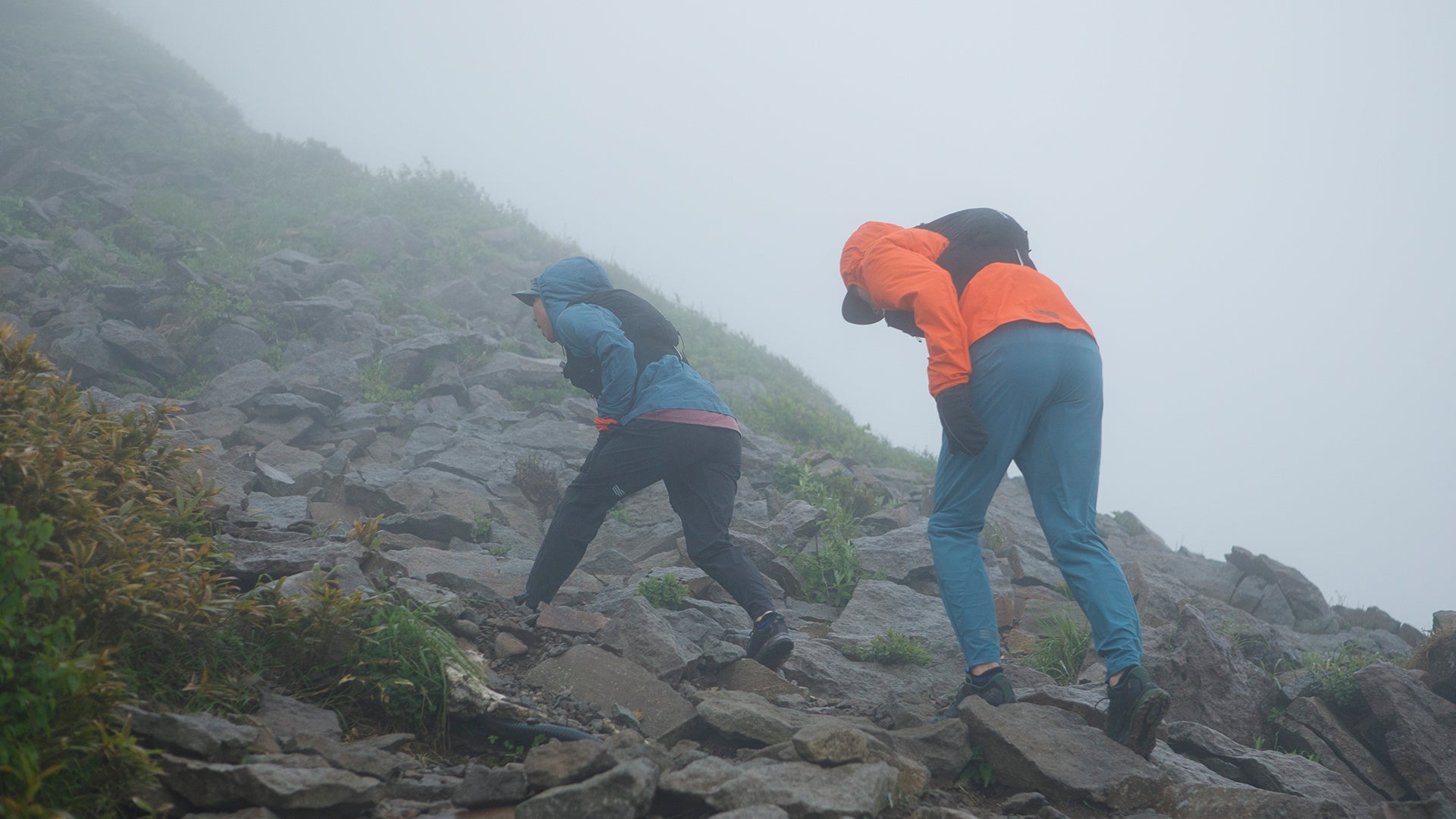 features
Long run ready
Three hidden waistband pockets stow a phone and nutrition without bounce or irritation
Secure storage
Two zippered hand pockets and back zip pocket secure wallet, keys, and other small essentials
Stow and go
Easily-packable design (just flip 'em inside out and stuff the pants into one of the front hand pocket bags) allows for no-fuss layering over shorts or tights mid-run when conditions change
Shoe-friendly layering
Elongated ankle zips allow quick on/off, shoes and all 
Designed for layering
A tapered fit below the knees and 4-way stretch recycled nylon fabric allow for unbounded range of movement 
Comfort in motion
Lightweight, super stretchy, fast-drying fabric is built for high-performance comfort
Stay seen
Reflective logos on front thigh + back leg increase visibility in low light
materials + specs
Atlas
77% recycled nylon, 23% spandex with PFC-free C0-DWR finish


Garment made in Vietnam
218g / 7.7oz (M's Medium)
sustainability
Our new Atlas fabric has a PFC-free C0 DWR finish for high-performing, long-lasting water repellency and faster dry times. The PFC-free C0 DWR is made without short-chain PFCs, or perfluorinated chemistry also known as PFAS, which are part of a family of forever chemicals that have been used to create DWR finishes for decades, but can wash off of garments and remain in our watersheds for hundreds of years. Janji has transitioned completely to using PFC-free C0 water repellency as part of our sustainable initiatives while still prioritizing long-lasting protection without releasing harmful substances into the environment — we are proud to be 100% PFAS free across our apparel and accessories production as of January 2023.
Our Atlas fabric is bluesign® certified meaning it is free from harmful chemicals and is fabricated in a way that meets a high environmental standard.

Learn more about our sustainable initiatives
 

here.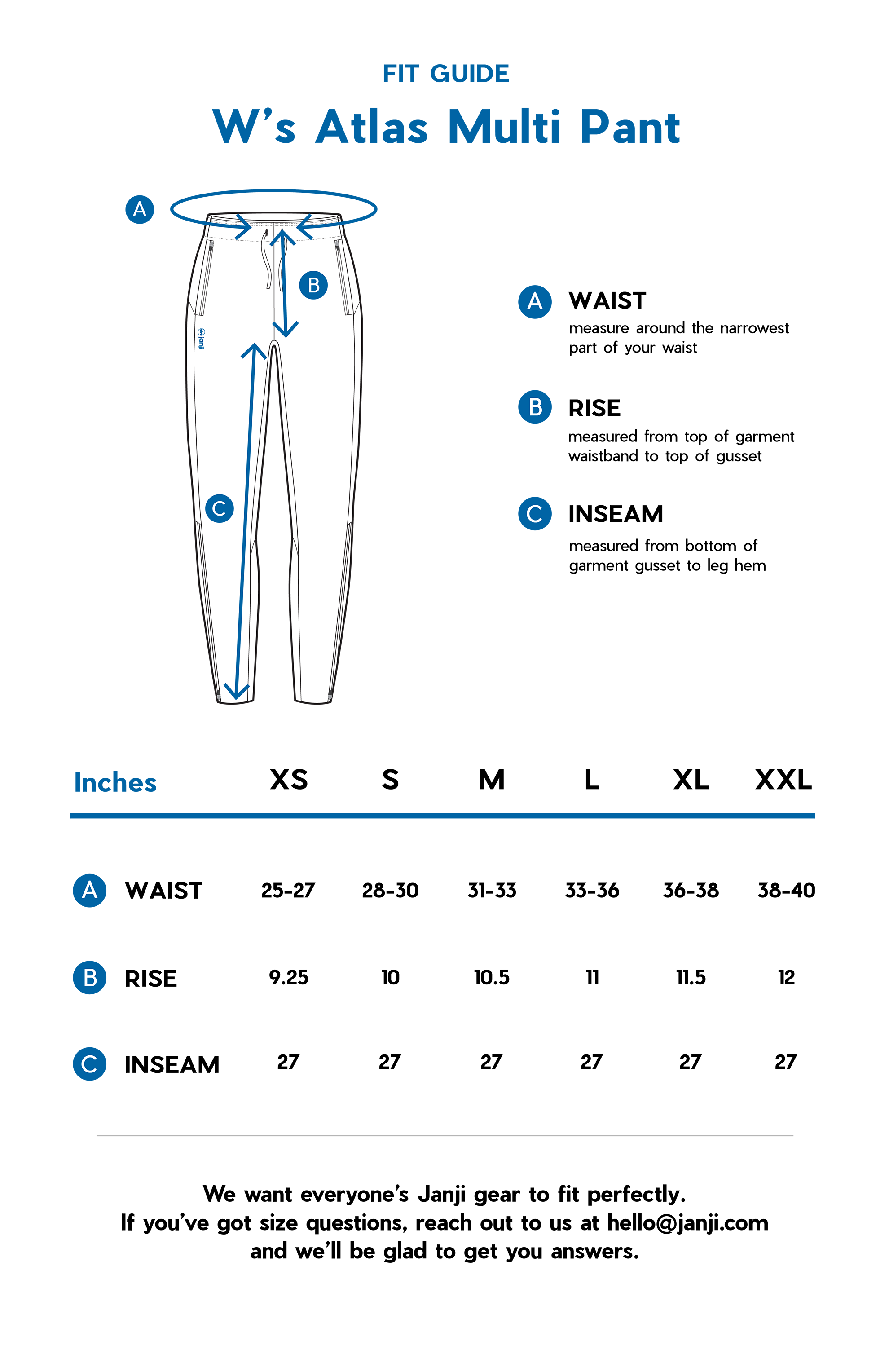 JOIN THE COLLECTIVE
Already a Janji Collective member? Log in to unlock access now.
Janji Collective Membership
$25
Key member benefits:
- 15% lifetime discount.
- Priority access to all releases.
- Limited run Janji gear.
Janji Collective Membership
Key member benefits:

- 15% lifetime discount.

- Priority access to all releases.

- Limited run Janji gear.
Please enter the gift recipient's contact info
The $25 membership fee goes toward supporting clean water initiatives through our clean water partner
Wear it for:
Running, Everyday wear
Versatile and Comfortable
Love these pants. As someone who runs outside all year long in Maine, these are great for those colder days. I wear them both as athletic wear, and everyday wear as well. Totally worth the price you pay!
So high quality!
I was blown away by these pants. The details in the seams, perfectly placed pockets, embellishments on the zippers and drawstring all add up to make a luxurious and sturdy feeling pant. They actually are water resistant and hold up to an hour of light rain. Great for layering.
Only slight criticism is the heavy tapered leg and tight ankle fit is a bit awkward - especially for a rain pant when the water drains down your leg. I would love to see slightly less taper and more of a straight leg so the water sheds slightly away from the ankle. But overall I will keep buying these pants because they are absolutely the best out there for rain joggers.
Wear it for:
Running, Hiking
I loved the Atlas Transit Tech with the exception of the cuffs, so I was hoping the Atlas Multi-pant wouldn't have the same cuffs, and they don't! I love that the leg zippers are longer than the Atlas Transit Tech, but I could do without the extra pockets. This waistband isn't as comfortable. I could wear a small in the old ones, but I had to get a medium in these new ones. Overall though, still my favorite pants for hiking, backpacking, and running!
Wear it for:
Running, Hiking, Everyday wear
I loved these! until I washed them
These pants were perfect, finally, some warmup pants I could pull over my sneakers. I was ready for these to become my everyday pants. then I washed them. Both zippers on the bottom of the pants separated from the fabric. This created a pant that is just open with a slit from the knee down. Completely unusable. I am so sad that for pants that cose over 100 bucks, they aren't durable enough to be washed once. Care instructions do not specify not using heat or anything to wash them. Advice on the website is to wear your gear into the shower to save water....so you've been warned.
Hi Rita - we're so sorry for this issue! Our customer service team has been in touch to arrange a replacement pair under our Run Everywhere Guarantee.
Wear it for:
Running, Hiking, Cycling, Everyday wear
Obsessed
I've literally worn these every day since I bought them (2 weeks ago now). They are my go to dog-walking pant in the chilly Portland mornings and rainy afternoons. I also wear them on top of my AFO Middle shorts on my way to and from the trail head and am sure I'll do some of my shorter winter runs in them as well. Love that I can easily take them off over my shoes and I'm still discovering all the many pockets!
Wear it for:
Running, Hiking, Camping, Cycling, Mountain Biking
My new favorite pants!
I am a big fan of Janji's pants in general, and when I saw the Cascade color, I knew it was time to try the Multi Pant. I'm 5' 4", so finding pants that hit at the right spot can always be a bit of a challenge, and these are the perfect length, but they can also be pulled up slightly or unzipped around my calves if I want some air on my legs. I wore them for the first time when I was pacing/crewing a friend for a 100-mile race, I wore them from 5 AM one day until noon the second day - they performed so well while I was running around between aid stations or just hanging out at camp. All of the pocket options are great - you can fit anything you may need (keys, gels, phone). And the material is so lightweight, they're perfect on their own for a fall day or for layering this winter, when I'm on hikes, trail runs, or biking.
These are awesome!
I do a lot of trail running and these are amazing! I love the fit. I've taken them on 10+ mile trail runs and never have any issues. I have several pairs of transit tech pants, which I love, but I honestly think these are my new favorites! The waist-to-leg ratio is more spot on—the newer models of the transit tech have felt like balloon pants on me (and I have large thighs!), but these are perfectly fitted without being constraining at all.
Wear it for:
Running, Hiking, Camping, Everyday wear
Comfy enough to run or lounge in!
Super lightweight, durable and stretchy. Could easily see these as great warmup pants before a race or loungewear on a camping excursion in the mountains or desert.
Wear it for:
Running, Hiking, Camping, Everyday wear
POCKETS
Janji wins for pocket designs again! Side pocket is perf for my iPhone13pro. Love the zips on the ankles (they go up to the calf!) and on the front pockets. These look really slick on. The material is so soft. The pants are very light. I'll be living in these this winter.