artist series
4 pockets
bestseller
run everywhere
guarantee
free shipping on
orders over $55
free 60 day exchanges
+ no-fuss returns
Improved comfort, same great feel — our bestselling Groundwork Pace Short is back and ready to tackle any workout you throw at it with improved ergonomic seaming, generous pocketing and optimal coverage. Read more
Explore more
↓
features
All about the Groundwork
Breathable, moisture-wicking fabric provides light compression with an unnoticeable feel in stride
Stays put
Silicone grippers on the hem prevent the fabric from riding up + keep the short in place during high-output movement
Unfussy + secure fit
Ergonomic waistband design contours the hips for optimal comfort in stride while power mesh lining offers secure support
Infinity drawcord
Allows for an adaptable fit + will not get tugged out in the wash
Pocket it
Two deep side pockets can easily accommodate the largest phone sizes (plus case) + minimize any movement or bounce
Keep it separated
An internal waistband pocket can stash card/cash or key
Back pocket duals as pass-thru
A back pocket can be used to store nutrition or as a pass-thru to secure a top or lightweight layer
Stay seen
Janji signature blue reflective logo on front and "watermark" on back increases visibility in low light
materials + specs
Groundwork Knit
68% nylon, 32% spandex

Power mesh lining
100% polyester

Weight
122g / 4.3oz (W's Small)


Garment made in Vietnam
sustainability
Groundwork Knit is made using a premium grade nylon that has a significantly tighter woven filament than standard synthetics. Tighter filaments mean less microfiber shedding in the wash-cycle, plus greater durability of the garment (longer lifespan, more wearing).

Groundwork Knit fabric is also bluesign® certified meaning it is free from harmful chemicals and is fabricated in a way that meets a high environmental standard.

Learn more about our sustainable initiatives
 

here.
Gallery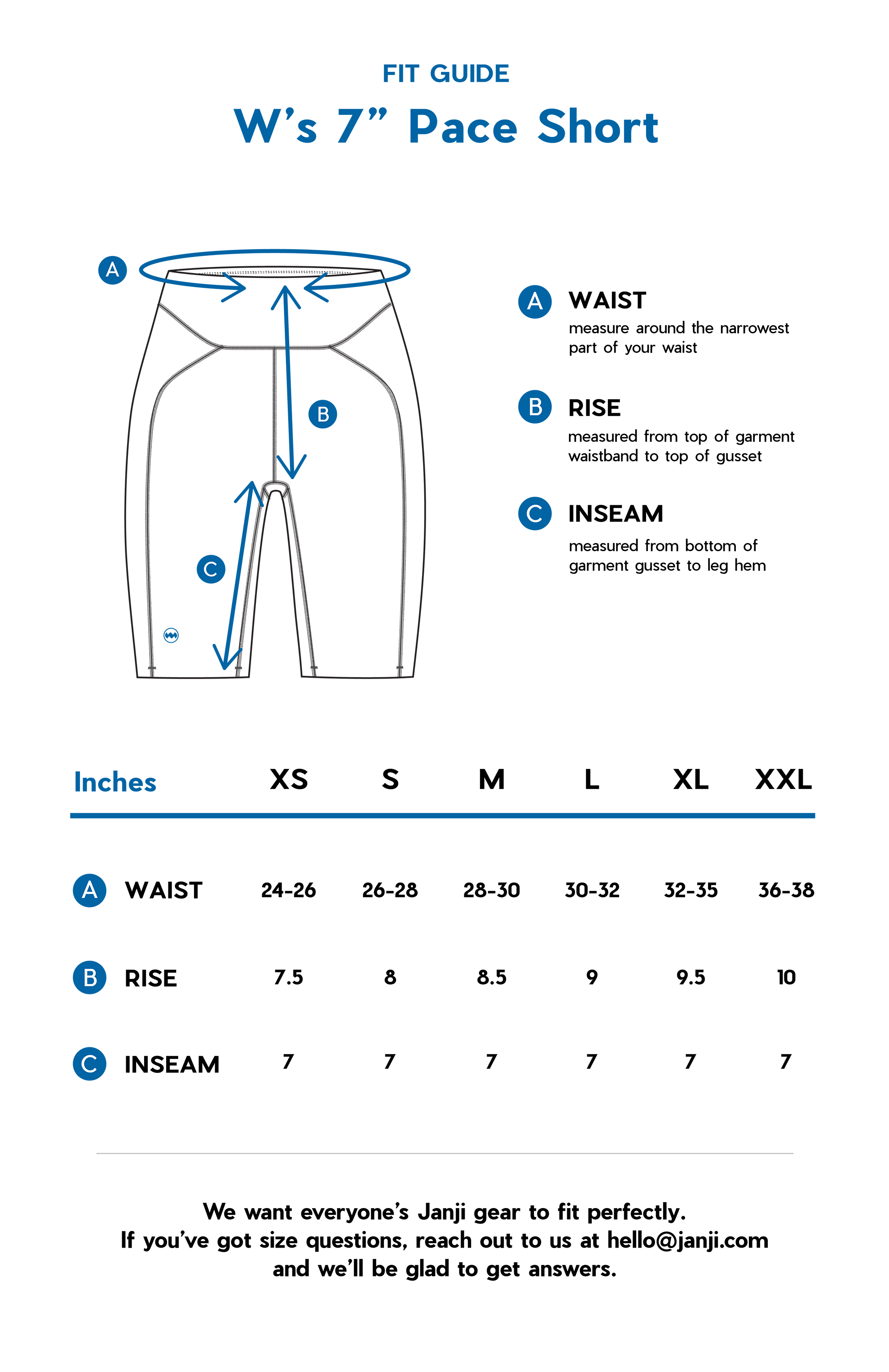 JOIN THE COLLECTIVE
Already a Janji Collective member? Log in to unlock access now.
Janji Collective Membership
$25
Key member benefits:
- 15% lifetime discount.
- Priority access to all releases.
- Limited run Janji gear.
Janji Collective Membership
Key member benefits:

- 15% lifetime discount.

- Priority access to all releases.

- Limited run Janji gear.
Please enter the gift recipient's contact info
The $25 membership fee goes toward supporting clean water initiatives through our clean water partner
I love these shorts
They're cute, bright, and durable. I don't feel my phone or key or gel in my pocket at all, and there's no hint of chafing. Buy them!
Long run love!
Great stay in place, no chafing running shorts. Have been my go to favs for marathon training.
Great running shorts
These are super comfortable. The fabric is really nice and soft to touch, but great for sweaty runs. They stay in place well and hold everything you need (phone/gels/keys) in the deep side pockets.
Game changer!
These shorts are amazing for distance running, the grips on the leg hems are the game changer! I bought two other pairs of similar running shorts from reputable sports brands, but couldn't keep the legs from riding up and bunching, and was constantly adjusting them during runs. These shorts stay in place the for the duration of the run!
Perfect running shorts
Love these shorts. They actually stay in place and the pockets are perfect.
No Riding Up
I love these shorts. I got them in the cyanotype which is a gorgeous color and very unique. These shorts have the perfect amount of compression and the little grips keep the legs perfectly in place. No adjustments needed throughout my run! The pockets are very deep and fit my phone comfortably. It did get sweaty in there, but nbd. You could fit a water bottle, but it just looks bulky. I haven't utilized the back pocket yet, but seems great for keeping extra layers. So tempted to buy all the colors!
Wear it for:
Running, Hiking, Everyday wear
Pace short
My 3rd pair of Pace shorts. Use them for running, hiking mostly. Super comfortable, with just the right amount of compression, pockets are perfect for phone and snacks, and a wonderful color (green floral color).
Love 'em
I love my new shorts! AND, every pair of janjis that I own. I'm up to three! I highly recommend them!
Wear it for:
Running, Hiking
Got stained
Pace shorts are my go to outdoor run shorts! Light, stay in place, no chafing, couldn't ask for more. When this new one dropped I acted quick on getting more in a different color. These green ones. Right away I noticed they're slightly different. Drawstring and the grips on the leg holes are more staggered than the usual strip of grip. Either way, still amazing. On my 3rd wear (after 2 washes) the green stained my skin! Around the waist and legs. It was a humid run but not the 1st one they've been exposed to. Showered and scrubbed twice but I'm still green. Luckily green is my husbands favorite color but not what I was expecting
Customer Service reached out to me and offer to make things right and provide an incentive. Wonderful experience and will still enjoy janji and their products
Oh no, we're so sorry to hear that your shorts caused staining Adrienne! Our Customer Service team will be in touch. Glad you love the shorts otherwise.