artist series
4 pockets
bestseller
run everywhere
guarantee
free shipping on
orders over $75
free 60 day exchanges
+ no-fuss returns
Improved comfort, same great feel — our bestselling Groundwork Pace Short is back and ready to tackle any workout you throw at it with improved ergonomic seaming, generous pocketing and optimal coverage. Read more
Explore more
↓
features
All about the Groundwork
Breathable, moisture-wicking fabric provides light compression with an unnoticeable feel in stride
Stays put
Silicone grippers on the hem prevent the fabric from riding up + keep the short in place during high-output movement
Unfussy + secure fit
Ergonomic waistband design contours the hips for optimal comfort in stride while power mesh lining offers secure support
Infinity drawcord
Allows for an adaptable fit + will not get tugged out in the wash
Pocket it
Two deep side pockets can easily accommodate the largest phone sizes (plus case) + minimize any movement or bounce
Keep it separated
An internal waistband pocket can stash card/cash or key
Back pocket duals as pass-thru
A back pocket can be used to store nutrition or as a pass-thru to secure a top or lightweight layer
Stay seen
Janji signature blue reflective logo on front and "watermark" on back increases visibility in low light
materials + specs
Groundwork Knit
68% nylon, 32% spandex

Power mesh lining
100% polyester

Weight
122g / 4.3oz (W's Small)


Garment made in Vietnam
sustainability
Groundwork Knit is made using a premium grade nylon that has a significantly tighter woven filament than standard synthetics. Tighter filaments mean less microfiber shedding in the wash-cycle, plus greater durability of the garment (longer lifespan, more wearing).

Groundwork Knit fabric is also bluesign® certified meaning it is free from harmful chemicals and is fabricated in a way that meets a high environmental standard.

Learn more about our sustainable initiatives
 

here.
Gallery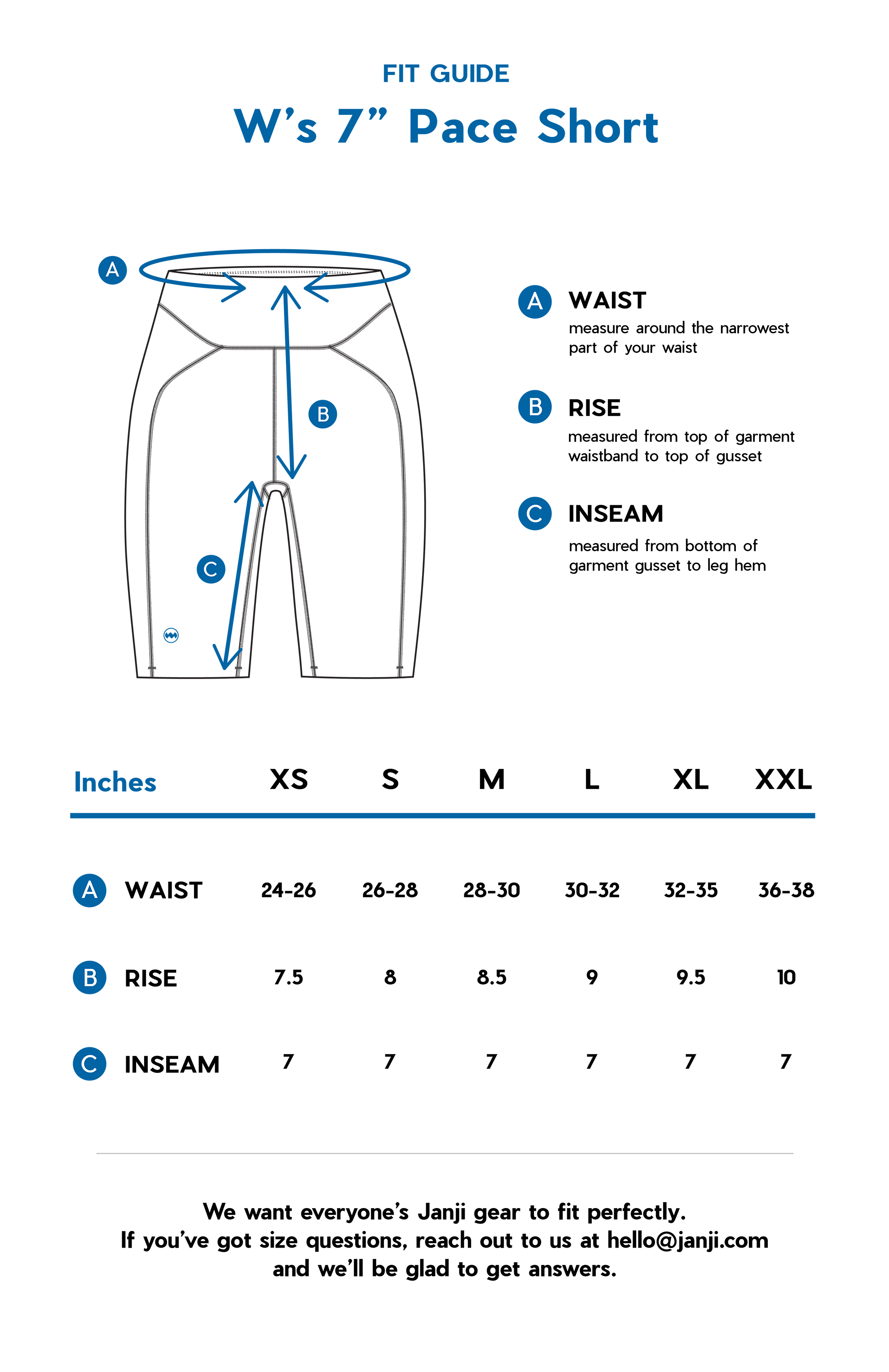 JOIN THE COLLECTIVE
Already a Janji Collective member? Log in to unlock access now.
Janji Collective Membership
$25
Key member benefits:
- 15% lifetime discount.
- Priority access to all releases.
- Limited run Janji gear.
Janji Collective Membership
Key member benefits:

- 15% lifetime discount.

- Priority access to all releases.

- Limited run Janji gear.
Please enter the gift recipient's contact info
The $25 membership fee goes toward supporting clean water initiatives through our clean water partner
Comfort
Great comfort and feel. The pockets are an excellent feature with plenty of space for a phone and fuel.
Best run short
I will have a hard time wearing any other running shorts to be honest. I can't tell if it's just because I gained weight or if they're a little snug for me on the medium so I'll say they just fit right. Even with the snug fit on my stomach (again probably because I'm heavier than usual right now) it wasn't uncomfortable and I ran a whole marathon in them. The deep pockets are everything you can fit an entire plastic water bottle in them (I didn't run like that just tested it out) I fit 4 gels on each side and still had room for my phone the whole race never lost a gel and I have thicker thighs never once pulled my shorts down because of the grip
The 16 hour Test: Stays in Place All Day!
I wore these for my first 100k race around Lake Sonoma. I usually buy men's shorts from Janji because I like the longer length. I am 5'2 and 120 pounds. I usually buy an xs in janji's leggings, but the xs pace short tends to be too tight around my stomach. I initially didn't want to buy the pace short because I can have issues with a too tight fit around my stomach causing more nausea as a run extends beyond 5 hours. However, size small was the perfect fit. Not too tight around my stomach and a perfect fit around my thighs. They stayed in place for the entirety of my 100k with no chafing and no issues. The best shorts are the ones you don't even know you are wearing so you can focus on the aspects of the race. That's exactly what these offer. I couldn't recommend them more.
Wear it for:
Running, Hiking, Camping, Everyday wear
LOVE the new grippers!
I've had every iteration of the pace shorts over the past 2+ years, including the 6-inch version (which ran a little small), to the first iteration of the 7-inch (more true to size). And now these: I notice improved pocket design, new drawstring (from continuous to now having two ends that you can tie together) and the evolution of the leg grippers from a band to the many little dots. The grip is what seals the deal for me. When I first tried this latest pair on, the grip was so sticky I had to be careful getting the shorts up! But after a few washes some of that intense stick is gone, in a good way. These shorts don't move at all while I am moving, and that is the most important feature for me. Besides functionality, fun colors and prints are my other favorite thing.
I have thick thighs and I used to think I couldn't wear any shorts while running--I just stuck to spandex capris that I knew wouldn't ride up. These are the only shorts I run in!!
Wear it for:
Running, Hiking
W's 7" Groundwork Pace Short
Pace perfection
This is my first time finding a spandex short that was actually comfortable! No squeezing on my legs, or any kind of creeping (the wide rows of grippers on the bottom band of each leg do not budge!).
I wore them for my recent marathon and honestly I forgot I was even wearing shorts. No chafing whatsoever. So so happy with these!
I love these shorts
They're cute, bright, and durable. I don't feel my phone or key or gel in my pocket at all, and there's no hint of chafing. Buy them!
Long run love!
Great stay in place, no chafing running shorts. Have been my go to favs for marathon training.
Great running shorts
These are super comfortable. The fabric is really nice and soft to touch, but great for sweaty runs. They stay in place well and hold everything you need (phone/gels/keys) in the deep side pockets.
Game changer!
These shorts are amazing for distance running, the grips on the leg hems are the game changer! I bought two other pairs of similar running shorts from reputable sports brands, but couldn't keep the legs from riding up and bunching, and was constantly adjusting them during runs. These shorts stay in place the for the duration of the run!